World Leadership Alliance-Club de Madrid (WLA-CdM) joined an encounter organized by DEMO Finland in Helsinki on 12 December 2019, which aimed to bring some light to the ongoing debate over the opportunities and challenges that Artificial Intelligence (AI) and digital transformation pose to democracies worldwide. Rubén Campos, WLA-CdM Programs Coordinator, shared the conclusions of the organization's Policy Dialogue on these topics.
Some of the participants were Heidi Kuusniemi, Director of Digital Economy Platform of University of Vaasa; Teemu Roos, Associate Professor of Computer Science, University of Helsinki; and Eeva Aittoniemi, Head of EU and international affairs of the Ministry of Justice.
Rubén Campos, WLA-CdM Programs Coordinator, delivered the keynote speech to introduce the main policy recommendations from Club de Madrd's Digital Transformation and the Future of Democracy Policy Dialogue, celebrated in Madrid on October 2019, in partnership with the IE School of Global and Public Affairs and under the patronage of Ms Mariya Gabriel, Member of the European Commission.
"Our Members are hopeful that digital transformation will keep contributing to create powerful tools to build a better democracy. But harnessing the potential of digital transformation as a force for the global democratic good requires strategic policy action. The Digital is political and decision-makers and political leaders all around the globe should take a leading role in defining and regulating the digital space", said Rubén Campos.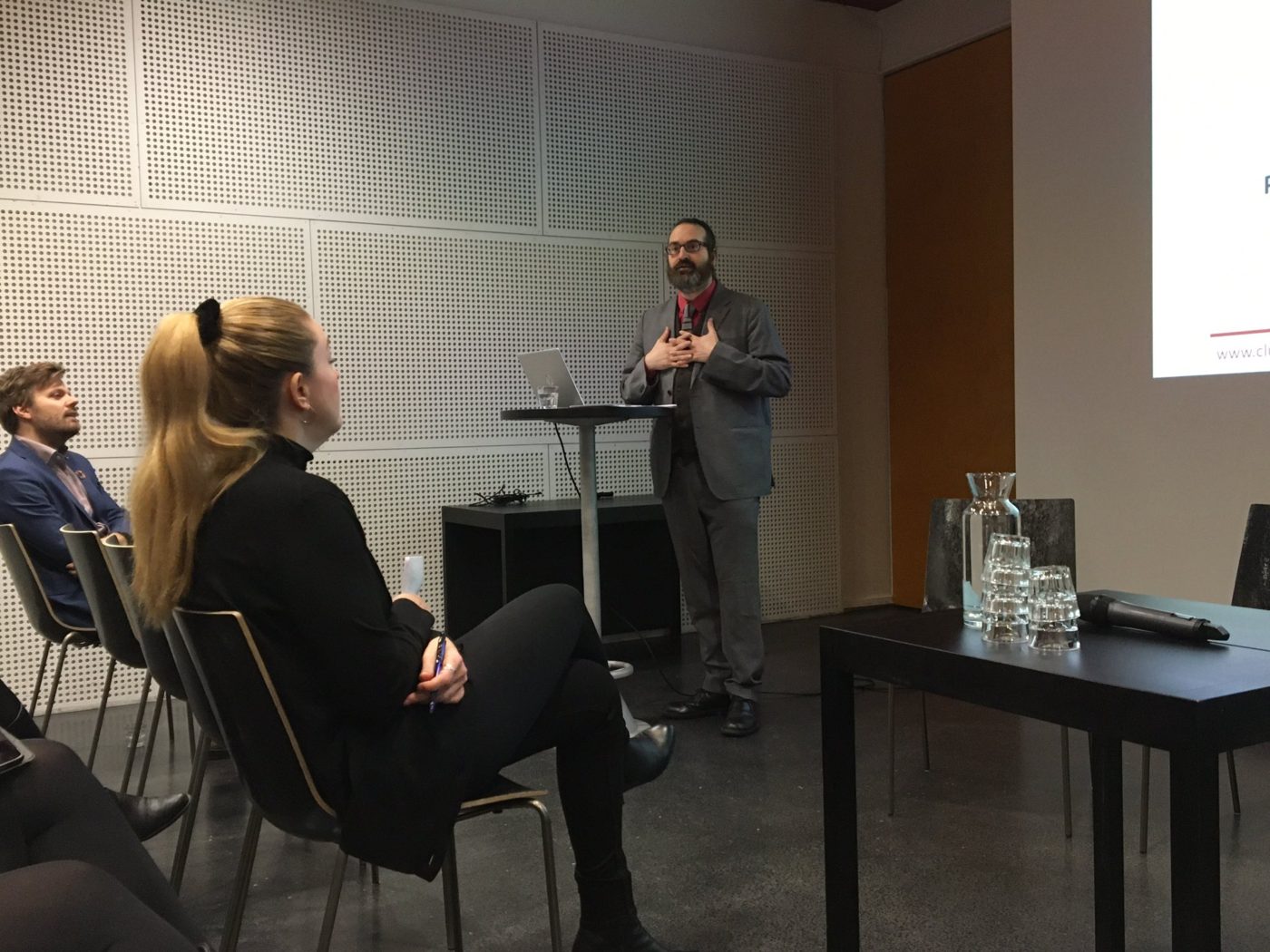 In this presentation, WLA-CdM offered its vision on why digital transformation and the future of our democracies are interconnected, and consequently what we shall expect with regards to the implications of digital transformation and artificial intelligence for fundamental rights and trust and public debate in the face of disinformation.
The conclusions and policy recommendations discussed over WLA-CdM Policy Dialogue 2019 were shared with parliamentarians, advisors, experts and civil society representatives, due to its relevance in this platform of discussion organized by Club de Madrid partners at the European Partnership of Democracy, DEMO Finland. Among our proposals, WLA-CdM paid special attention to a set of seven measures thought to counteract the challenges and threats posed by this Disinformation Age including, the empowerment of digital citizens; rewiring media; or protecting our elections, a highly urgent and concerning matter these days.
In addition, Club de Madrid highlighted four relevant areas where it is essential to develop policy initiatives: 
-Develop a bill of Digital Rights of International Significance
-Review the legislation concerning the digital environment
-Encourage voluntary action
-Promotion of Citizens' Education 
Once again, WLA-CdM reaffirmed its commitment as an organization to keep promoting a democratic approach to digital transformation, in particular artificial intelligence. The current political landscape urges for a proactive policy decision-making that can react to the vertiginous technological developments. For this reason, this issue will keep being at the centre of Club de Madrid programmatic strategy and will be receiving special attention this upcoming year in a Policy Lab to be organized in Boston, in partnership with the Boston Global Forum, in April 2020.