International Peace and Security remains one of the foremost global challenges of our time. As the world juggles intractable problems from climate change to deep societal cleavages, and a downward spiral of unbridled contest and power politics, the onset of COVID-19 has unsettled the development of peace. Despite international efforts and calls for a global ceasefire, ongoing conflicts have continued, and new ones have appeared. 
Acting as a catalyst and a magnifier of previous imbalances, COVID-19 is contributing to a further deterioration in levels of peace. While the long-term effects of the pandemic on conflict prevention and peacebuilding efforts are still unknown, the latest Global Peace Index indicates that the average level of global peacefulness deteriorated for the ninth time in twelve years in 2020. Overall, 87 countries improved in peacefulness, whilst 73 deteriorated. As the response to the pandemic continues to dominate the attention and resources of the international community, our path to fulfilling the promise of Agenda 2030 and fostering a more peaceful and inclusive world is now in jeopardy.
No country can change such complex dynamics alone. Unilateral approaches to today's global challenges reflect a deadlock in thinking that will fail to provide long-term solutions to current and future threats to our systems.
 Only a new path leading to a more equitable, secure and sustainable system for global cooperation, with renewed multilateral institutions, can address today's challenges to peace and security. This Live Session brings together Club de Madrid and partners with recommendations that can reinvigorate our multilateral system to create more peaceful and resilient futures.  
Join our Live Session to discuss proposals for a multilateral system that fosters the conditions for positive peace.
2 September at 14:00 CET / 08:00 EDT  
Register
Participants 
● Danilo Türk, President, Club de Madrid
● Steve Killelea, Founder and Executive Chairman, Institute for Economics and Peace
● Maria Victoria Cabrera Balleza, Founder & Chief Executive Officer, Global Network of Women Peacebuilders
● Radhika Coomaraswamy, Under-Secretary-General of the United Nations, Special Representative for Children and Armed Conflict
Facilitator: Lord John Alderdice, Director, Centre for the Resolution of Intractable Conflict
Social Media Graphic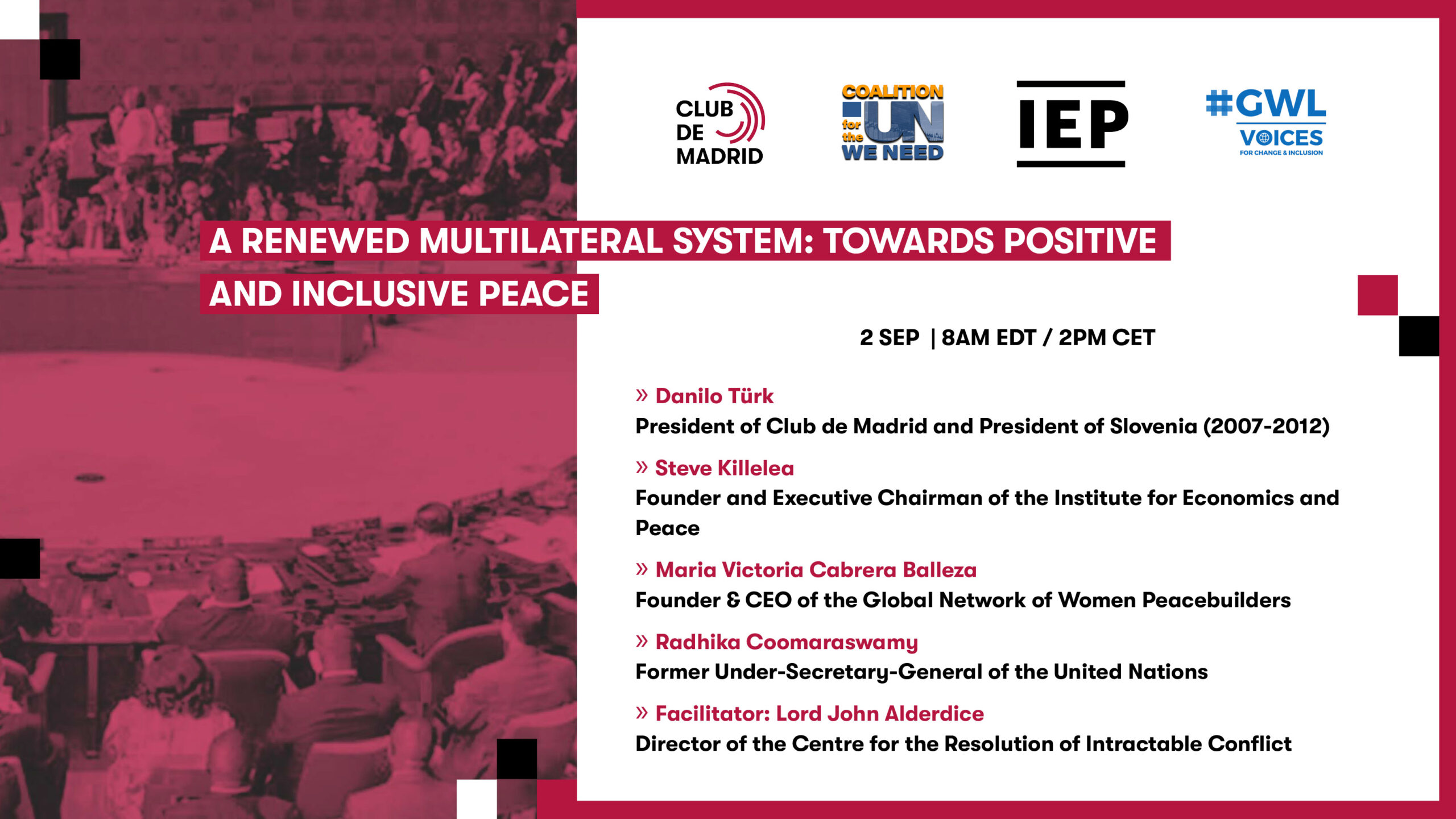 Related Members