As part of its Shared Societies Project, Club de Madrid (CdM) attended the United Nations (UN) Intergovernmental Conference to Adopt the Global Compact for Safe, Orderly and Regular Migration, as well as the side events organised in connection with it. These activities were held on between the 8th and 11th of December in Marrakech, Morocco.
CdM Members Ellen Johnson-Sirleaf, Mary Robinson, Michelle Bachelet and Antonio Guterres, participated in various dialogues and side-events during the Intergovernmental Conference in Marrakech. This historical agreement also count with the presence of the German Chancellor Angela Merkel, Spanish Prime Minister, Pedro Sánchez, Manuela Carmena, Mayor of Madrid, Louise Arbour, UN Special Representative for International Migration, and Antonio Vitorino, International Organization for Migration (IOM) General Director. Most participants put the emphasis on the non-binding aspect of the Global Compact, the importance of having an international tool about migration and the relevance of the topic for international relations, development and security among others.
Former President of Liberia, Johnson-Sirleaf highlighted migrant's contribution to the global economy and appeal against the abuses and exploitation caused by the reduction of free movement in Libya and other Mediterranean countries. The Spanish Prime Minister announced the opening of Fund for migrant's integration and a conference about Desertification and Migration that will be held in Almeria -Spain- in the upcoming year. Also, Manuela Carmena called for UN support to connect origin and host cities to facilitate migrant's settlement.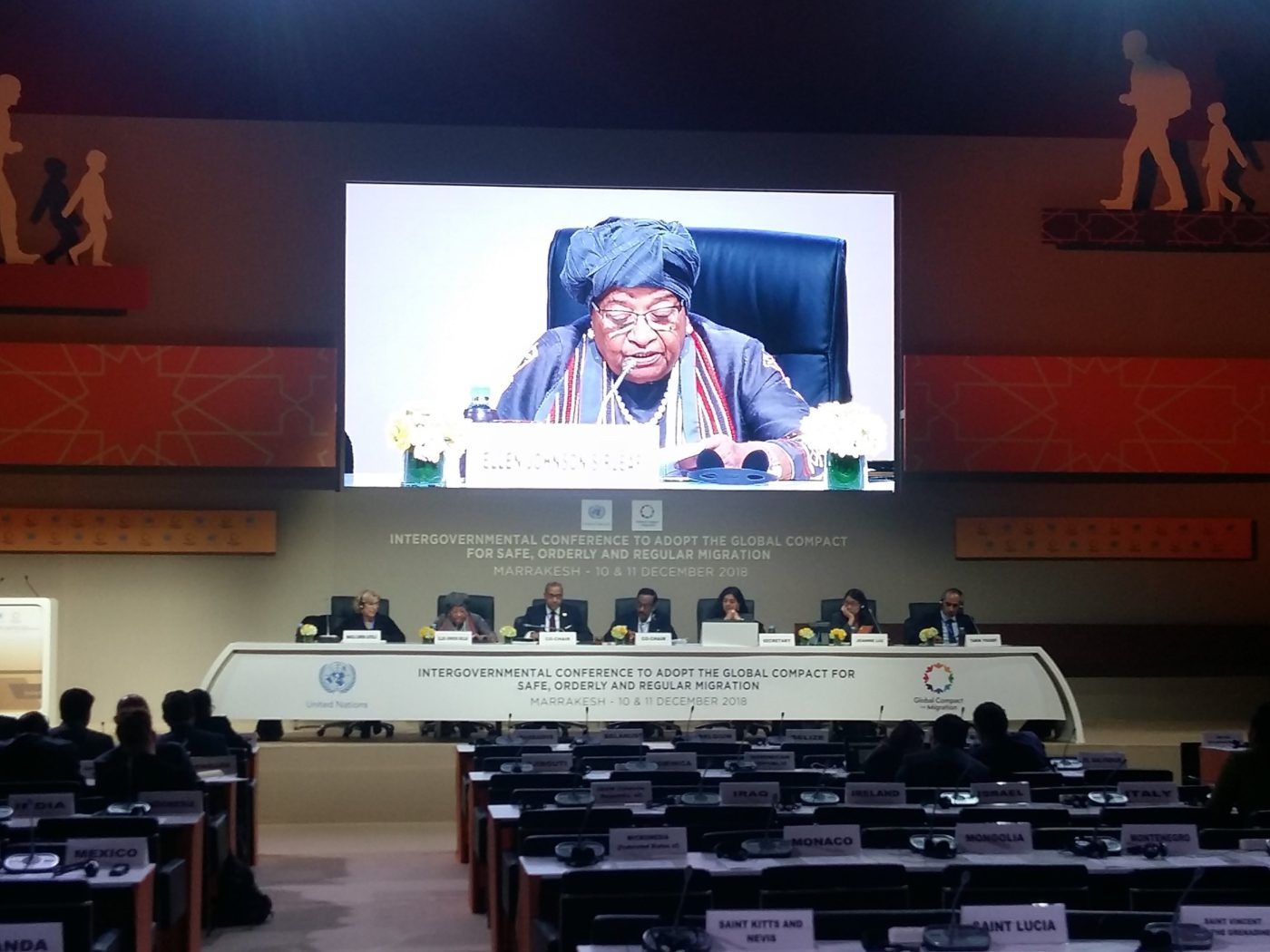 CdM Member Ellen Johnson-Sirleaf speaks at the UN Intergovernmental Conference to adopt the Global Compact for Migration
During the second day of the Conference, a Shared Societies Project representative, Clem McCartney, intervened in the dialogues part of the Conference, which were developed in parallel with the general plenary, exposing CdM Members' support and interest to the Global Compact adoption as well as supporting its future implementation, in accordance with main points highlighted in the Open Letter signed by Club de Madrid Members, Alfred Gusembauer and Mehdi Jomaa. The Open Letter emphasizes the need for involving local communities in order to turn round negative conceptions of migration.
As part of the Shared Societies Project commitment to support global and national implementation of the Global Compact and Agenda 2030, Club de Madrid established contact with several organizations and UN partners attending the events –IOM, Organization for Economic Co-operation and Development (OECD), African Union, Overseas Development Institute (ODI), and national delegations such as Pakistan, Mexico, Senegal or Costa Rica among others.
Related Program