Club de Madrid Members, Advisors, and the Secretariat are deeply saddened by the passing of Madeleine Albright. Secretary Albright was not only a brilliant analyst of world affairs and deeply respected political leader but her life story, her career in public service and her staunch commitment to democracy, the rule of law, human rights and women's rights in the US and abroad has and will hopefully keep inspiring those aspiring to serve in public office in the years to come. Over the years, Secretary Albright broke many glass ceilings – she was the first female U.S. Secretary of State and the highest-ranking woman in the history of the U.S. government at the time of her appointment. She was not only a political figure of historic dimension but a trailblazer and a mentor that inspired and empowered new generations of women and youth as a professor, public servant, diplomat, business woman, and author.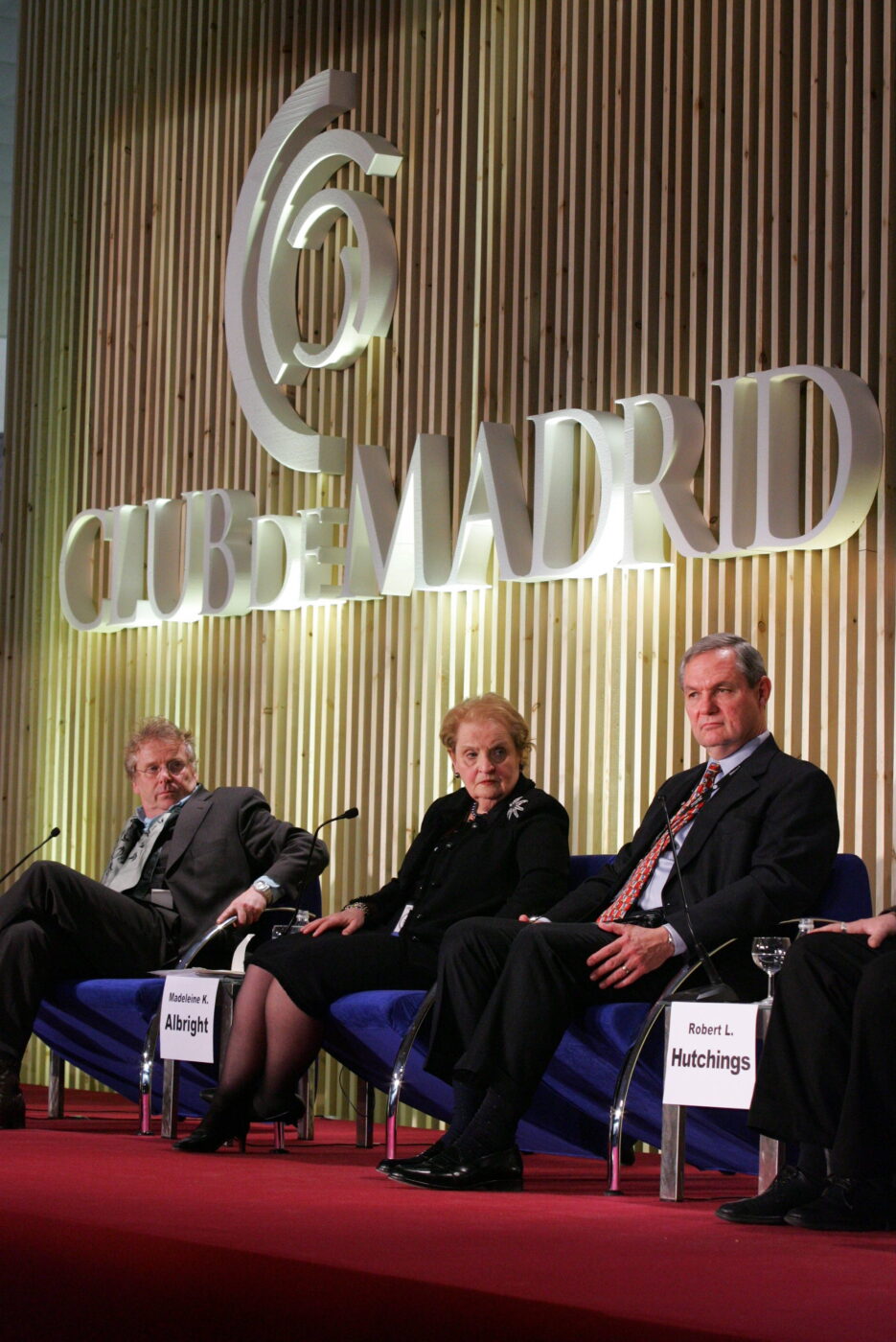 At a time of immeasurable geopolitical tensions, the growing authoritarianism she so often highlighted and today tragically epitomized in the war against Ukraine and the millions of refugees and displaced persons, Secretary Albright's principled voice and democratic conviction are needed more than ever.
Many Club de Madrid Members, from all regions, had the opportunity to work alongside Secretary Albright, while she and they were in office but also later when she focused so much of her work and energy on fostering democracy. One of our fondest memories is her participation in our International Summit on Democracy, Terrorism, and Security in 2005, when she spoke of The Necessary Alliance: Strengthening Transatlantic Relations in the 21st Century along with some of her peers including Ana Palacio, Former Minister of Foreign Affairs of Spain, and Hubert Védrine, Former Foreign Minister of France.
Secretary Albright's experience in international affairs and unrelenting belief in democratic values and peace helped shape recent US and global foreign policy. Her role in the expansion of NATO, against the ethnic cleansing in Bosnia and Herzegovina, and most recently, her unwavering support to Ukrainians will guide current world leaders.  She will be profoundly missed by all.  At a time of democratic backsliding and global uncertainty, Secretary Albright's legacy is more important than ever. Club de Madrid extends its deepest sympathies and heartfelt condolences to the Secretary's family and to all those who had the privilege to serve with a truly unique human being.