Serge Stroobants, Director for Europe and MENA operations of the Institute for Economics and Peace (IEP), presented the findings of the Global Terrorism Index on January 23 in Madrid, noting that deaths by terrorism overall fell by 27% during 2017.
Throughout the year 2017, 96 countries improved their scores (meaning that terrorist attacks declined), while 46 countries deteriorated (meaning they suffered more terrorist attacks). The largest degradations took place in Somalia and Egypt due to large-scale attacks taking place on their soil.
The Global Terrorism Index was presented in Madrid in collaboration with Club de Madrid (CdM) and the Instituto de Cuestiones Internacionales y Política Exterior (INCIPE) is produced annually by the IEP, an organization that seeks to create a world that is more peaceful and fulfilling and that also releases the Global Peace Index.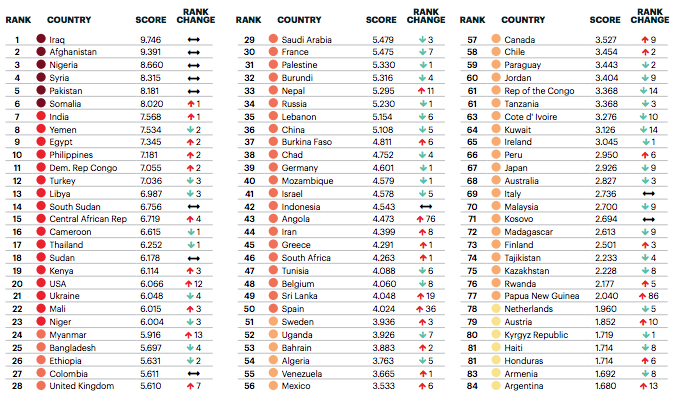 When discussing the drivers of terrorism, Mr Stroobants highlighted how a lack of democratic development often fuels conflict and violence, which leads to an increase in terrorism. CdM's work in projects such as Shared Societies and Preventing Violent Extremism, as well as the general goal of the organization – democratic development – can contribute in this area.
Terrorism fell steadily in Europe
Deaths by terrorism in Europe fell by 75% in 2017 after a sustained increase between 2013 and 2016. Still, one has to note that Western Europe and North America account for only 1% of the terrorist incidents that take place globally.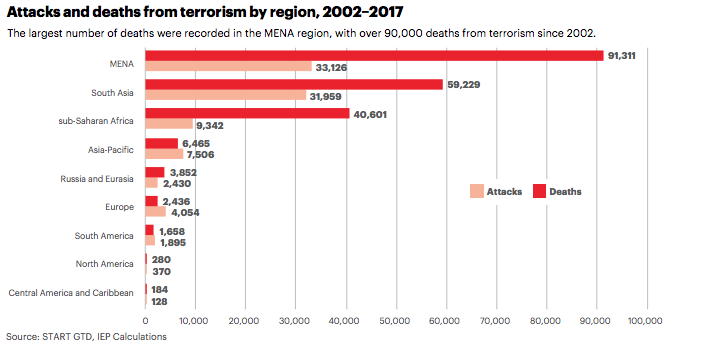 "Attacks like the ones in Paris and Brussels should normally not occur anymore", said the Director of Operations for Europe and the MENA region at the Institute for Economics and Peace.
The defeat of Daesh has strained the logistical capabilities of the terrorist group, limiting its ability to perpetrate large-scale attacks, like the ones that struck Paris and Brussels. Despite their financial and territorial losses, Daesh remained the deadliest terrorist group, albeit deaths attributed to them fell sharply.
On a negative side, the Global Terrorism Index finds that terrorism is still very much a global phenomenon since 67 different countries across the globe registered at least one death from terrorism. The report also points to a rise in far-right terrorism during 2017.
Drivers of terrorism
In developed countries, the Global Terrorism Index finds that a lack of inclusion, social cohesion and alienation are intrinsically linked to the radicalisation of individuals that might then perpetrate terrorist attacks. Mr Stroobants said he has advised governments in Western Europe to pay closer attention to the last phase of migration: integration. But is there a link between migration in terrorism?
"The only connection between terrorism and migration is that terrorism produces migration", said Mr Stroobants, who added that having crushed "Daesh's capabilities", Western powers have not defeated its "ideology" or the root causes behind radicalisation. Governments should focus much more on the causes now.
Another important driver for terrorism is violent conflict. Over 99% of deaths related to terrorism have occurred in countries that are involved in one. Similarly, the Global Terrorism Index finds that countries that suffered from foreign interventions also register a rise in terrorist activity.