A delegation of World Leadership Alliance-Club de Madrid (WLA-CdM) led by President Danilo Türk met for this year's Preparatory Experts Meeting, a gathering to discuss and craft the programme of the upcoming 2019 Imperial Springs International Forum (ISIF). Under the title Multilateralism and Sustainable Development, ISIF will examine China's role in the global process to achieve the Sustainable Development Goals and the constructive international cooperation necessary for their eventual success.
Aside from Member Danilo Türk, the former President of Slovenia, WLA-CdM's delegation included staff and experts handpicked by the organization. All of them joined Chinese and international experts and brought their experience and insights to the discussion with the objective of organizing an action-oriented forum in ISIF 2019. Following Agenda 2030's first 4-year follow-up during the upcoming United Nations General Assembly in September, ISIF 2019 will be in a privileged position to discuss how best to mobilize political will, partnerships, and action in support of the Sustainable Development Goals.
Experts also found the discussion timely, since we are approaching the year 2020 when the United Nations will celebrate its 75th Anniversary. Discussions during ISIF 2019 will address the renewal and reform of our rules-based multilateral system, which can contribute to galvanizing our commitment to multilateralism.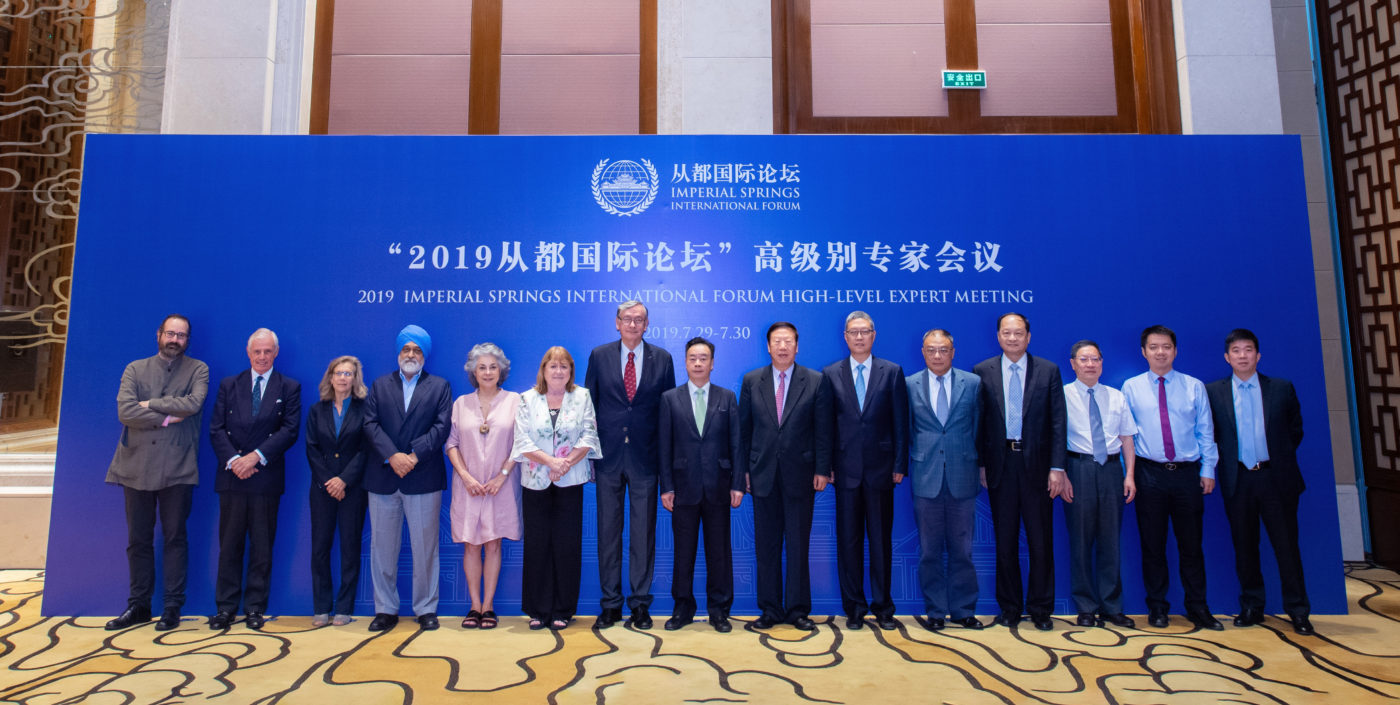 Similarly, another anniversary will mark this year's ISIF. This year's celebration of the 70 years since the founding of the People's Republic of China will serve as a backdrop of ISIF programme. In this sense, the experts addressed the developments in China's diplomacy and its implications for the future of multilateralism and the SDGs.
Dr. Chau Chak Wing, who is Chair of the Asia-Pacific Region of WLA-Cd-M President's Circle, presided all sessions. Find below a complete list of participants of Preparatory Experts Meetings:
-Montek Singh Ahluwalia, former Deputy Chairman of the Planning Commission of India
-Elin Bergman, Head of UN's Resident Coordinators' Office in Beijing
-Sean Cleary, Chairman of Strategic Concepts and Advisor of WLA-CdM
-Zhu Feng, Director of the Institute of International Relations University at Nanking University
-Yang Jiemian, Member of the Foreign Policy Advisory Group of the Ministry of Foreign Affairs of China
-Susana Malcorra, former Foreign Minister of Argentina
-Karen Tramontano, former Deputy Chief of Staff to President Clinton
-Danilo Türk, former President of Slovenia and Member of WLA-CdM
-Wang Wen, Executive Dean of Chongyang Institute for Financial Studies at Remin University of China
-Dai Xianglong, former Governor of the People's Bank of China
-He Yafei, Former Deputy Foreign Minister of China
-Elin Bergman, Head of UN's Resident Coordinators' Office in Beijing
-Sean Cleary, Chariman of Strategic Concepts and Advisor of WLA-CdM
-Zhu Feng, Director of the Institute of International Relations University at Nanking University
-Yang Jiemian, Member of the Foreign Policy Advisory Group of the Ministry of Foreign Affairs of China
-Susana Malcorra, former Foreign Minister of Argentina

-Karen Tramontano, former Deputy Chief of Staff to President Clinton
-Danilo Türk, former President of Slovenia and Member of WLA-CdM
-Wang Wen, Executive Dean of Chongyang Institute for Financial Studies at Remin University of China
-Dai Xianglong, former Governor of the People's Bank of China
-He Yafei, Former Deputy Foreign Minister of China
Read More
2018 Imperial Springs International Forum: Final Statement
Related Project