For the past decades, migration in Latin American consisted largely of migrants leaving their countries from the region to the United States or Europe. This migration flow overshadowed all other flows within Latin American countries, which have always existed. However, as a result of the challenges faced by Latin America and the Caribbean, namely, political crisis, insecurity and economic uncertainty, migration flows within the continent have intensified. Most notably, the political and economic crisis of Venezuela has led to around 4 million Venezuelans to flee the country to neighbouring Latin American countries.
This shift in migration flows has led to new policy challenges for Latin America. Following this demand for policy analysis from countries and international organisations, World Leadership Alliance-Club de Madrid (WLA-CdM) held an expert roundtable in Washington to examine challenges and good practices around the migration framework of migrants, refugees and internally displaced persons.
The dialogue addressed Comprehensive Response Frameworks for Mass Movements of Internally Displaced Persons, Migrants, Refugees, Deportees and Returnees: Opportunities, Challenges and Good Practices". The President of WLA-CdM, Danilo Türk, and Member Boris Tadić, brought reflections on regional good practices and policy instruments from Europe, focusing on those which have contributed to building social cohesion between migrants and host communities, this mitigating marginalization.
"Migration is a normal phenomenon for human beings. It's the evidence of our nature, history and future", said Türk. The former President of Slovenia compared the EU's and Latin America' responses to migration, noting that the former has been more agile and innovative at developing regional cooperation mechanisms to define the social integration of migrants and asylum policies.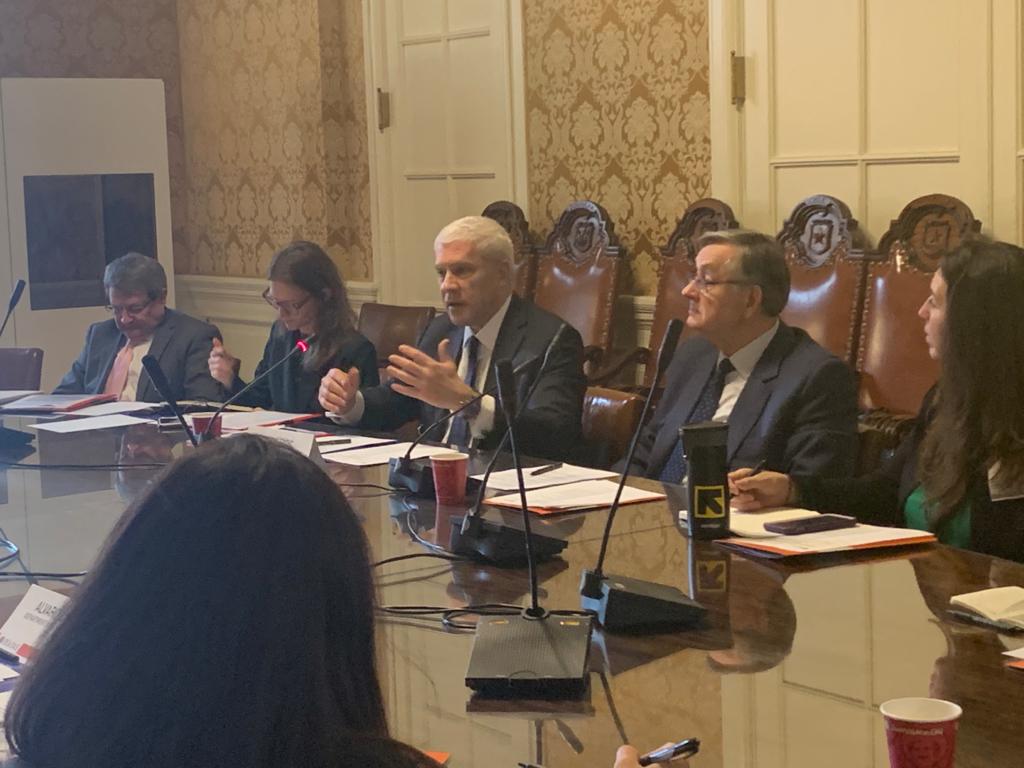 Andrew Selee, President of the Migration Policy Institute, expressed the need to build institutions to effectively manage migration. President Türk recalled the increasing number of migrants trying to cross the border from Turkey into Greece and stressed that 5 millions of migrants – which account for only 1% of the EU population- are destabilizing the fragile European Union institutions.
At the global level, Türk pointed out that the International Organization for Migration was yet to be integrated into the UN structures. The WLA-CdM President also considered that countries need to be better prepared for massive migration flows, which are to be expected in the future due to the climate crisis or other emergencies that might arise.
Both Türk and Tadić expressed concern about the frequent negative portrayal of migrants from the media or from anti-migration political parties. Consequently, Tadić, who is a former President of Serbia, emphasised the need to respond to an increased volume of migrants who are different from local populations, keeping stereotypes and exclusion out of inclusion mechanisms.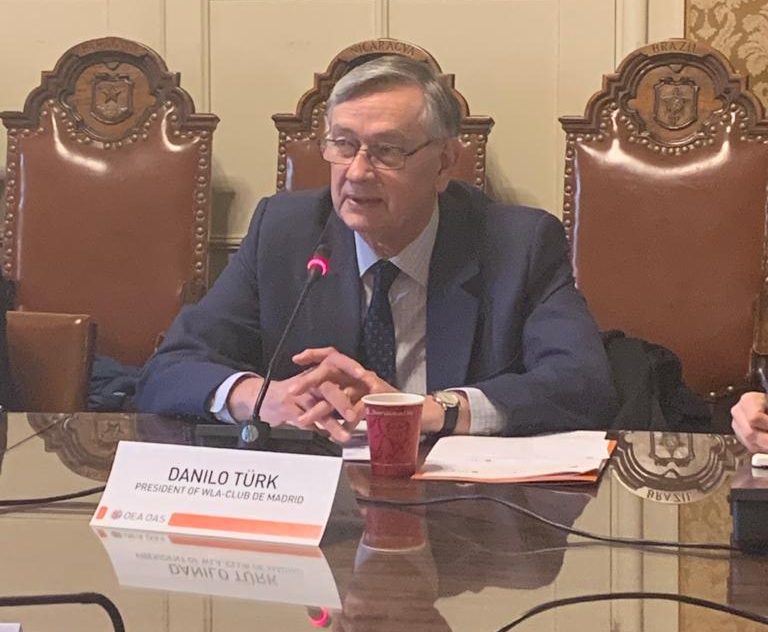 Organisations including Immigration, Refugees and Citizenship Canada, Human Rights First and the Centro por la Justicia y el Derecho Internacional, spoke on issues such as preserving family reunification, improving local authorities in the reception and integration of migrants and refugees and considering new forms of statelessness.
The Organization of American States (OAS) highlighted the importance of regionalizing the existing mechanisms so that responding to shifting migration flows is addressed collectively. From this stems the need to engage with the private sector, local government and civil society in a multi-sectoral cooperative process and better define the role of development actors.
President Türk offered WLA-CdM's support in rebuilding the "momentum" that is missing when it comes to regional cooperation. The WLA-CdM President closed the meeting by reminding participants about the scope of the challenge presented to us in balancing migration and adaptation to climate change.
Türk and Tadic discussed migration also with Luis Almagro, Secretary General of the OAS. Almagro, who also engaged in the exercise of comparing responses to migration in Europe and Latin America, thanked WLA-CdM for its contributions to the roundtable celebrated earlier and welcomed WLA-CdM's interest to continue collaborating further.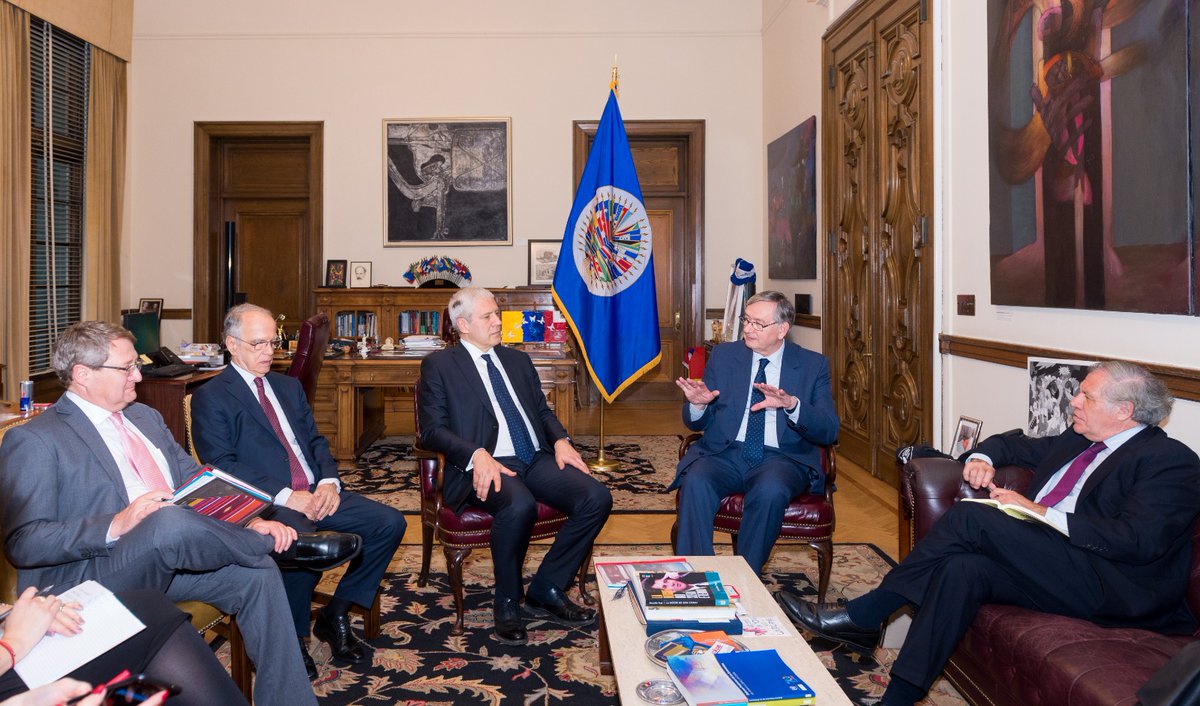 A Shared Societies Perspective on Migration
Through migration, our societies become more diverse. WLA-CdM's Shared Societies Project offers a kit of practical guidelines for policymakers to successfully manage diversity in a society. By leveraging the leadership and experience of WLA-CdM Members, we advocate for global inclusive policies on migration, including regional and international frameworks, such as the Global Compact for Migration.
We are particularly interested in ensuring that the inclusion of migrants, their needs and specific vulnerabilities, is sufficiently addressed in the global and regional policy response. There are examples of effective policies to support migrants across regions which can be replicated at scale and thus bring new energy, skills and resources to host communities.
Inclusive Peace and Shared Societies
As a consequence of the COVID-19 global expansion, the World Bank decided to cancel its flagship Fragility Forum. Given our commitment to peacebuilding, Members were asked to speak on a panel. Still, in its efforts to engage the World Bank, Danilo Türk and Boris Tadić met with Franck Bousquet, Senior Director of Fragility, Conflict, Violence and Forced Displacement. Mr Bousquet presented the World Bank's work on developing state capacity in some regions, exploring options for WLA-CdM's involvement.
As part of our programme for inclusive engagement to transcend divisive rhetoric; Presidents Türk and Tadic met leading figures studying or countering polarization at the Carnegie Endowment for International Peace and More in Common.
During the mission to Wahsintgon DC, Danilo Türk provided commentary for the Washington Post on the crisis between Turkey and the European Union concerning asylum seekers attempting to cross the Greek border.
Related Program