Madrid, 18 June 2020 – IE School of Global and Public Affairs and Club de Madrid (CdM) have signed today a collaboration agreement with the aim of developing joint projects and activities to help strengthen democracy, good governance and democratic values in a world facing challenges on many fronts.
 IE University and CdM will cooperate, among other things, on delivering courses and study programs, technical visits, as well as arranging international talks, seminars, symposia and colloquia. In addition, they will share experts and work together in volunteer and student internship programs, as well as in the development of capstone projects and the publication of joint research.
 "The signing of this agreement confirms a relationship that IE School of Global and Public Affairs and Club de Madrid had already been developing, based on shared democratic principles and values. As an example, last autumn we worked together on the 2019 Policy Dialogue, a space for reflection on global governance that focused on the role of artificial intelligence in the innovation of democracy," explained Susana Malcorra, Dean of IE School of Global and Public Affairs, when signing this agreement.
 "This agreement reaffirms something we have been doing for a long time: collaborating, bringing together the efforts and specificities of our two institutions to achieve common objectives, more just, sustainable and democratic societies", said María Elena Agüero, Secretary General of CdM. She added: "Club de Madrid, the experience of its more than 100 former Heads of State and Government from all over the world; IE University, the capacity, energy and potential of young people who will be the leaders of tomorrow and, why not, of today as well. Nothing is more inspiring at a time when it is more necessary than ever to look ahead, knowing that we have to join forces and seek that better world. "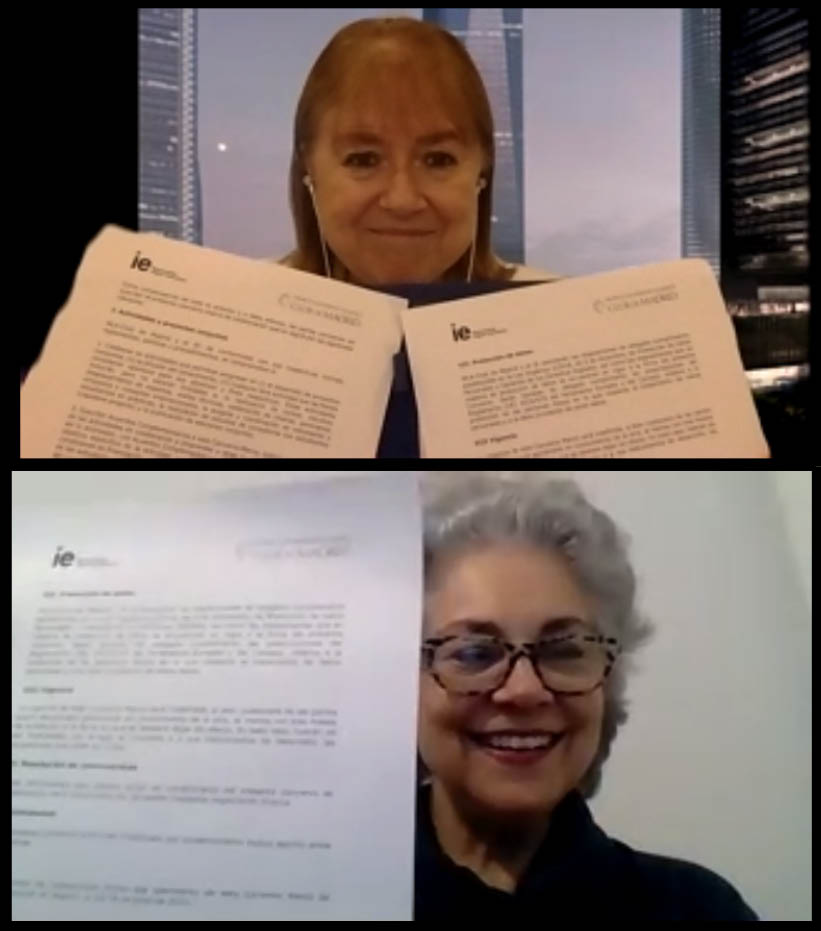 The new alliance between IE University and CdM is open to other institutions and organizations working toward the same objectives and is committed to promoting the widest possible exchange of information and documentation on topics that contribute to the interest and well-being of people everywhere.
 ABOUT
IE is an international university based in Spain that offers programs in international relations, business administration, economics, law, technology and social sciences. Recognized as a leading educational institution in Europe and the world, it has over 7,000 students, 70% of them from foreign countries, and an active network of 60,000 alumni distributed among 165 countries. IE is characterized by its diversity and openness to the world.
IE School of Global and Public Affairs aims to build talent and knowledge in complex, interdependent and fast-changing environments in which challenges and opportunities can only be addressed through a comprehensive understanding of social, political, technological and economic connections. The School has signed several partnerships to collaborate with the most relevant world organizations, including the United Nations, the Organization for Economic Co-operation and Development (OECD) and the International Chamber of Commerce (ICC).
The School is a full member of the Association of Professional Schools of International Affairs (APSIA), the Network of Schools of Public Policy, Affairs and Administration (NASPAA), and the European Consortium for Political Research (ECPR), which constitute the three top global accreditations in its field.
Club de Madrid is the largest global assembly of political leaders working to strengthen democratic values, good governance and the well-being of citizens across the globe. As a non-profit, non-partisan, international organization, its network is composed of more than 100 democratic former presidents and prime Ministers from over 70 countries, together with a global body of advisors and expert practitioners, who offer their voices and agency on a pro bono basis to today's political, civil society leaders and policymakers. CdM responds to a growing demand for trusted advice in addressing the challenges involved in achieving democracy that delivers by building bridges, bringing down silos and promoting dialogue for the design of better policies for all.