Our democracies are going through an unprecedented phase. The economic and social consequences following COVID-19's global spread are shaking societies around the world. More than ever, democracies need to live up to their promises or risk that citizens might develop a taste for less democratic forms of governance. It is therefore crucial that we respond to this crisis respecting democratic principles, fostering social inclusion and fomenting solidarity within and between nations. Globally, multilateralism is the best method to achieve such a response by as many countries as possible. 
As former Presidents and Prime Ministers, WLA-CdM Members have led democracies in their responses to challenges as varied as governance transitions, financial crises, civil unrest, violent conflict and epidemics as serious as SARS, H1N1, MERS and Ebola. They have raised their voice and shared advice throughout the crisis, and continue to do so. Here we collect a series of advocacy activities from Members containing policy solutions to guarantee a democratic governance of the pandemic.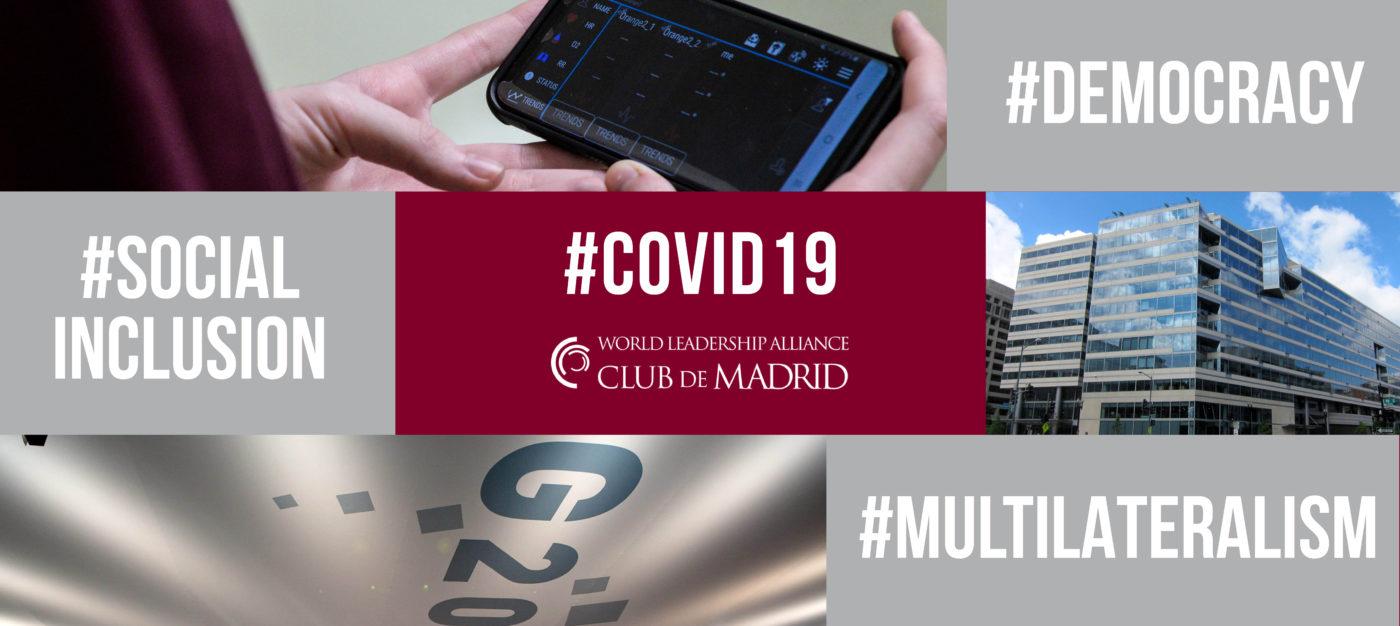 On Democratic Values and Principles
This health and economic crisis brings to the fore a number of social dynamics that reach into the very core of democratic values and principles. The most straightforward is the extent of the extraordinary powers which governments have acquired to guarantee social distancing and curb COVID-19. National and global leaders must measure such responses against the imperative to safeguard fundamental rights and freedoms, as enshrined in national and international law. Limitations to fundamental rights and freedoms must not exceed the extent strictly required by the exigencies of the situation. Certainly, they should not unduly impede fundamental tenets of democracy such as freedom of thought, freedom of speech, legislative oversight or the celebration of elections.
This interplay between safeguarding rights and controlling the spread of the virus is also relevant in the use of technology. The use of digital tracking tools for health reasons should also strike a balance between health and privacy, rather than making us choose between one or the other.
Club de Madrid's programme Next Generation Democracy examines the state and future of democracy by working out how this system can meet the expectations of all citizens.
On Social Inclusion and Solidarity
The pandemic has cast a spotlight over the realities of social exclusion, as marginalized segments of the population have experienced dramatically higher rates of infection and mortality. While our most immediate problems are the human and economic consequences of COVID-19, these should be addressed in the context of a long-term strategy targeted towards the most vulnerable segments of our societies. 
Any measures taken need to look beyond the health crisis and anticipate the rapidly unfolding economic consequences of the pandemic, which will disproportionately affect the most vulnerable segments of the world's population. In order to avoid a spike in the inequality dynamics that exist between societies and countries, we must ensure that measures are inclusive and based in solidarity within and between countries. When it comes to health, this translates in making treatment, vaccines and technology that contributes to fighting COVID-19 broadly available at little to no cost.
We should shape a post-COVID-19 world for all and therefore, national and global leaders developing policies for such purpose should engage with all segments of society and stakeholders.  
Club de Madrid's programme, Shared Societies advocates for an inclusive implementation of the 2030 Agenda, ensuring equal opportunities to all individuals and enabling an environment that integrates different vocies
On Multilateralism and Global Cooperation
As with many of the world's problems today, COVID-19 does not circumscribe to borders. Muck like climate change, for example, this is a problem shared by virtually all nations of the world. The pandemic also brings a series of problems that are also global by nature: dislocations in production/supply chains and trade networks or new regulations in international travel. These sorts of challenges require global solutions. Contrary to this notion, some governments are approaching COVID-19 with national-grown solutions, refusing to cooperate with others or paying little attention to advice from international organizations. 
Developing a COVID-19 response that respects democratic principles and fosters social inclusion and solidarity within and between nations, in a cooperative approach, is a complex task. Multilateralism is the best system we have to achieve just that. The post-COVID-19 world must be constructed on the basis of a strengthened multilateral cooperation and an inclusive, cooperative and stable international order.
Club de Madrid's programme Multilateralism and Global Cooperation advocates for a strong, inclusive and rules-based multilateral system capable of articulating common responses to common challenges