The democratic former Heads of State and Government that make up the Membership of Club de Madrid advocate for a strong, inclusive and rules-based multilateral system for the global community.
Reflecting on the current state of the multilateral system is most important on the International Day of Multilateralism and Diplomacy for Peace (24 April). To do so, Club de Madrid joins the campaign #MultilateralismMatters initiated by UN2020, Civil Society Partnerships for the UN We Need.
Members observe with worry the weakening of multilateral efforts in addressing major issues that put a real strain in populations worldwide. From COVID-19 to climate change, many of the problems affecting us all today do not circumscribe to borders. Challenges are more complex than ever and shared by all nations of the world. They require global solutions.
Yet, the last decade has seen a revival of governments approaching transnational issues with national-grown solutions, neglecting advice from international organizations and refusing to cooperate in order to address pressing global challenges.
For some years now, we have been working for the full implementation of globally endorsed frameworks such as Agenda 2030, the set of objectives by the United Nations to achieve sustainable development and leave no one behind. A stark example that ambitious and coordinated policy action can achieve real results with impact on our daily lives.
In order to advocate for coordinated policy action on global issues from a democratic standpoint, the Membership of Club de Madrid, gathered in the General Assembly approved under the title Multilateralism and Global Cooperation a new programmatic area with policy discussions underway.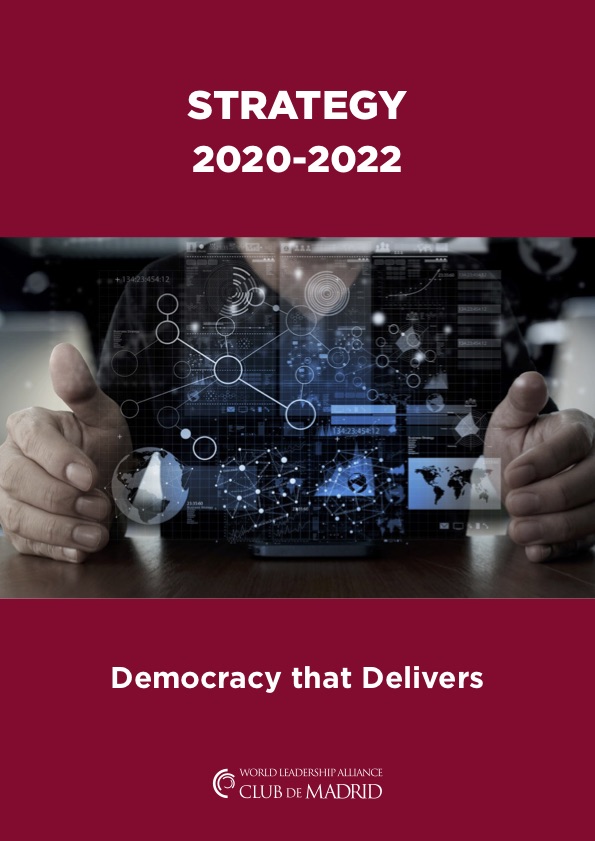 Members of Club de Madrid made it a strategic priority of the organization to support the multilateral system as the guarantor of inclusive consensus-based solutions, an imperative need given the many transnational challenges we face. Within this framework, we support the UN75 initiative, the "global reality check" that multilateral institutions are going through in order to improve their institutional setting and effectiveness.
The UN75 initiative is looking for your views, which will feed the reform process of multilateral institutions. Should you wish to participate, take the one-minute survey below.
Through Multilateralism and Global Cooperation, Members also aim at fostering dialogue with and among global powers to encourage mutual understanding on critical global issues. At the Imperial Springs International Forum, a yearly activity by Club de Madrid and its partners, Members actively engage in a conversation between China and the West.
Want to see more on our work in multilateralism so far? There's a list below!
COVID-19
Club de Madrid joins letter addressed to G20 leaders calling for global coordination amidst health and economic crisis
Global leadership for the COVID-19 pandemic is the only way to leave no one behind
Club de Madrid Members' contributions to COVID-19 ongoing crisis
Message from Club de Madrid to the special G20 Leaders' summit on the COVID-19 pandemic
Club de Madrid advocates for global leadership to the heads of World Bank-IMF
A strengthened multilateral system could protect us from threats like coronavirus, states Club de Madrid President
&nbsp
The multilateral system
Club de Madrid Members exchange ideas for a renewed multilateral system at United Nations China
&nbsp
Dialogue with and among global powers
Final Statement: Imperial Springs International Forum
Imperial Springs International Forum on Multilateralism and Sustainable Development
&nbsp
Our background engagement in multilateralism
The G20 in a post-crisis world / global governance