Several Members of World Leadership Alliance-Club de Madrid (WLA-CdM) spoke at the Raisina Dialogue 2020 held in New Delhi, thus strengthening the collaboration with this multilateral conference committed to addressing the most challenging issues facing the global community.
In this forum organized by the Observer Research Foundation and supported by the Indian Ministry of Foreign Affairs, WLA-CdM Members spoke on issues like climate change, sustainable development, current growth models, clean air and technology, emphasizing how Shared Societies, a term coined by WLA-CdM, which also names its longest-living project, offers practices and policies to advance in all these fronts.
Helen Clark spoke on female leadership. Find below some other interventions by WLA-CdM Members:
–Han Seung-soo, on green growth and the role of leadership in sustainable development
–Carl Bildt, on tech conflicts and the need for states' to better develop their digital transformation
–Helen Clark, on sustainable development, climate change and clean air
Helen Clark expressed concern because "the gains we have made become quite fragile"
Titled #SheLeads in the Alpha Century, panelists discussed the new narratives of transformation and change for women in the 21st century. Prime Minister Clark spoke about her time at the UN Development Programme and how she approached creating gender parity which was helped in part by the positive efforts of then Secretary-General, and honorary WLA-CdM Member Ban Ki-moon.
Other participants in the panel discussion were Smriti Irani, Minister of Women & Child Development, Minister of Textiles, India; Esther Brimmer, Executive Director & CEO, NAFSA: Association of International Educators, United States; Eleni Kounalakis, Lieutenant Governor of California, United States; and Patricia Scotland, Secretary-General, Commonwealth Secretariat, the panel was chaired by Joanna Roper, Special Envoy for Gender Equality, Foreign and Commonwealth Office, United Kingdom.
Advances and setbacks
"If you look back at where the UN has made the most significant contributions, one of them is in setting the normative basis for gender equality" referring to various conventions that have ensured equal rights to women throughout the 75 years of UN history. However, as Clark continues, "It's a matter of great concern to me, now, that we see the gains we've made become quite fragile".
Speaking about the increasing levels of female representation in her home state of California, Lieutenant Governor Kounalakis emphasised that changes are starting to be seen in policy-making and implementation. This includes a recently legislated bill ensuring at least one woman is on the board at publically held companies in the state.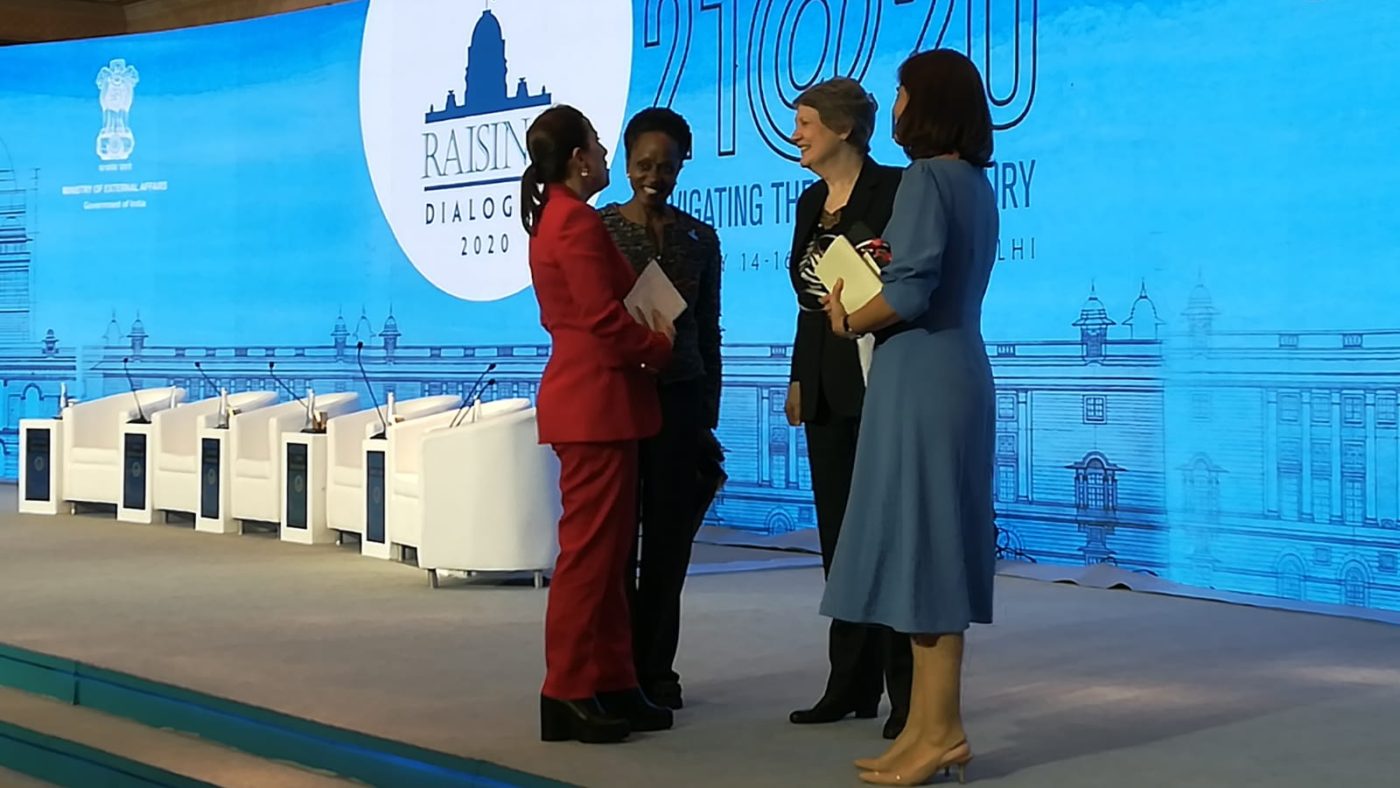 "There are 600 publically held companies in the state of California and it has generated quite a bit of conversation about whether or not this is a good thing." This has led to pushbacks and even lawsuits from some companies who claim it has become too difficult to operate in California despite positive data and research showing the benefits of the move for all, regardless of gender as outcomes of change are driven by this development where companies that have women integrated in all levels are doing better in SDGs.
Indian Minister of Women & Child Development Smriti Irani shared how important it is to get the female electorate involved and to deliver on development promises made to them by being proud of women's successes and pushing for empowerment. Irani also commented on the need for men to be equal partners on women's issues.
A video stream of the full panel discussion is provided by Observer Research Foundation is available to watch below.
Learning from experience
Former Prime Minister Helen Clark also spoke with Marise Ann Payne, Minister of Foreign Affairs and Minister for Women, Australia and Elena Beganu, Officer, NATO HQ Romania. The three discussed the role of Women Leaders, Peace and Security for a special event broadcast on Facebook Live, questioning the continuation of international populist strongman politics and how women leaders should respond to this climate by looking back at what they can learn from past struggles.
Former Prime Minister Clark told the audience in Delhi and online about her childhood, she grew up working on her family farm, and said that the experience fuelled her drive to achieve because "I grew up in an environment where I never knew that some people thought that there were some things girls shouldn't do, because we did everything". It wasn't until her time as a university lecturer and later a politician that she started to notice that women were often marginalised in certain roles.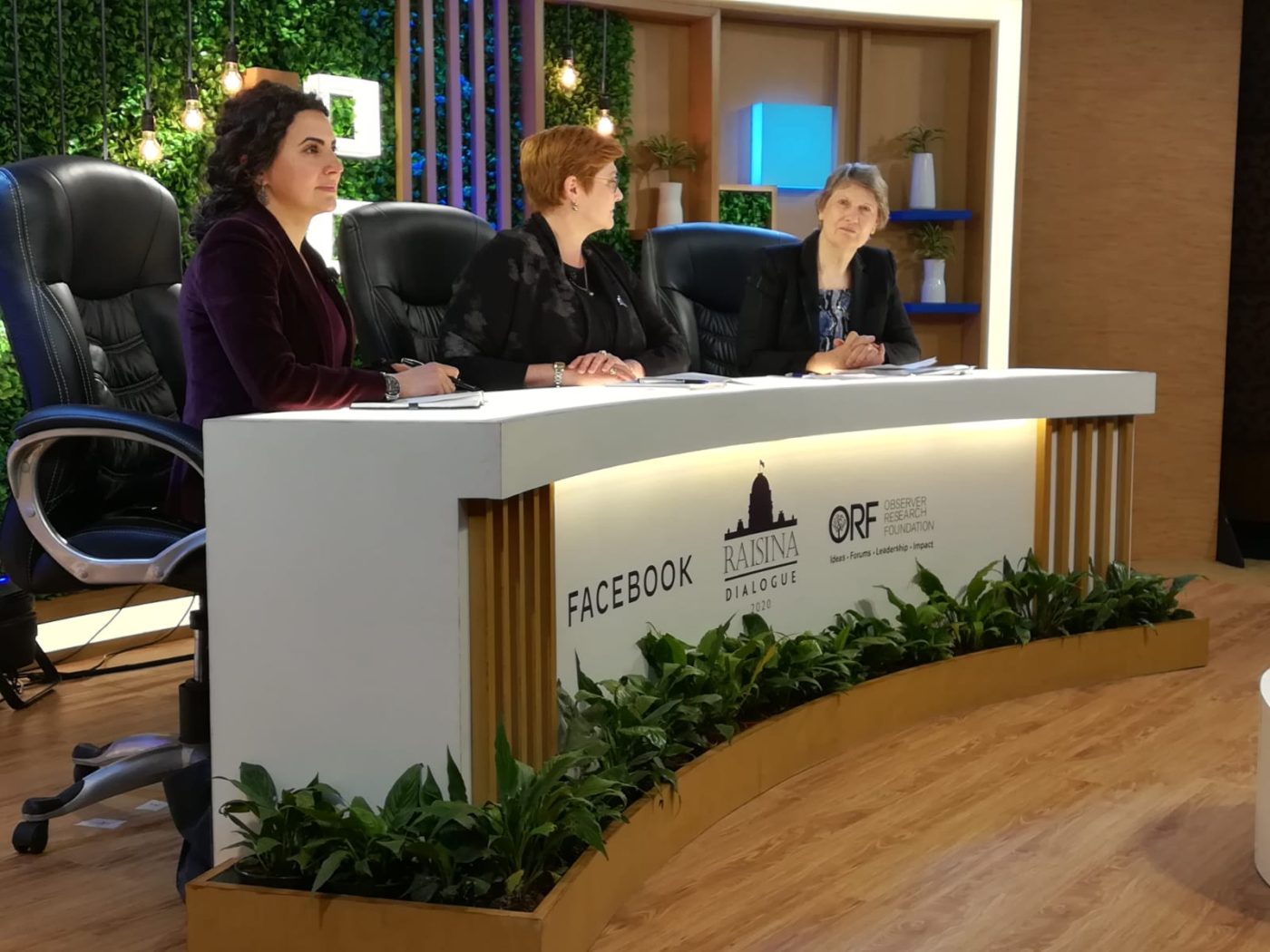 Minister Payne who balances her role as both the Australian Foreign Minister and Women's Minister added that "having women involved in decision making – it is just logical. It is short-sighted to cut out 50% of your population in the decision-making process", and stressed the need for women to be tenacious in policy-making as well as in the public sector to be able to rise to the top.
Related Members