Several Members of World Leadership Alliance-Club de Madrid (WLA-CdM) spoke at the Raisina Dialogue 2020 held in New Delhi, thus strengthening the collaboration with this multilateral conference committed to addressing the most challenging issues facing the global community.
In this forum organized by the Observer Research Foundation and supported by the Indian Ministry of Foreign Affairs, WLA-CdM Members spoke on issues like climate change, sustainable development, current growth models, clean air and technology, emphasizing how Shared Societies, a term coined by WLA-CdM, which also names its longest-living project, offers practices and policies to advance in all these fronts. 
Han Seung-soo spoke on how leaders can promote multilateralism and the need to come up with alternative growth models. Find below some interventions by other Members:
–Helen Clark, on sustainable development, climate change and clean air
–Carl Bildt, on tech conflicts and the need for states' to better develop their digital transformation
–Helen Clark also spoke on female leadership at a panel and a Facebook Live Session
PM Han Seung-soo defends the role of leaders in promoting multilateralism
"I strongly believe in multilateralism, globalisation and open regionalism", said WLA-CdM Member Han Seung-soo in the inaugural panel session. The former PM believes that his country, Korea, has benefitted greatly from the liberal regime, bringing prosperity. Han believes that prosperity guarantees peace and security and global frameworks, like NATO, strengthen these.
East Asia, like the rest of the world, is at a crucial point brought about by unilateral and protectionist trends. The former PM of Korea defended the role of leaders "in reversing the current trends, which might make our lives difficult in the future".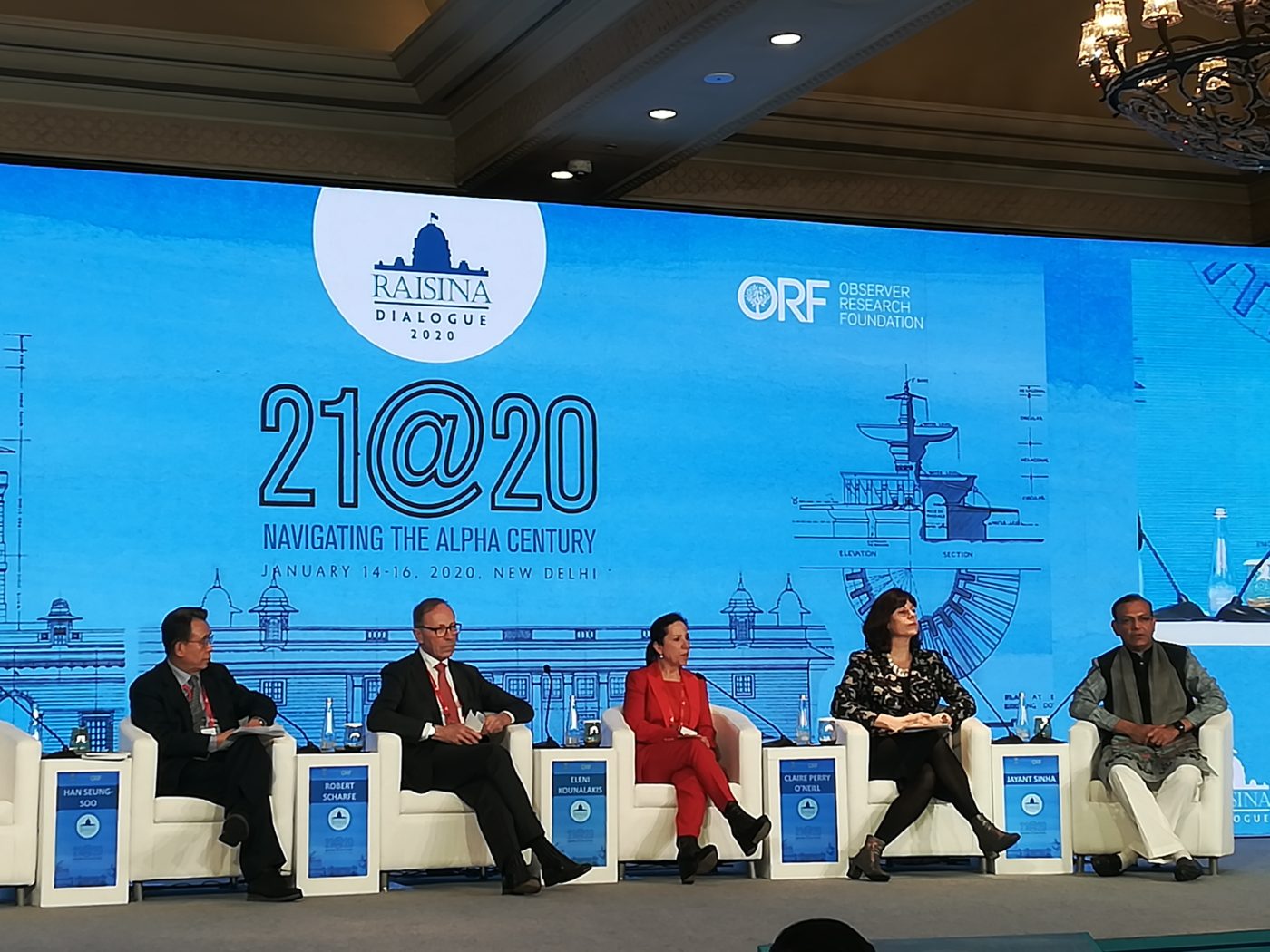 Climate change, an issue on which the future of humanity so critically depends
In a panel on finance and innovation for the green economy, PM Han Seung-soo recalled the times when he chaired the OECD Minister Council, the body passed a resolution to produce a report on green growth. As positive examples, the report included countries like Korea, Ireland, China and Rwanda. If Indian authorities seek inspiration to reform how the country grows, the WLA-CdM Member recommended that they look to East, rather than the West. 
"We need a paradigm shift in growth models", said PM Han, adding that while capital and labour will remain important, policymakers should consider other factors when thinking about growing the economy. "We need to shift from quantitative growth to qualitative growth", he said.
PM Han considers climate change an issue on which the future of humanity so critically depends. He reminded the audience that finance is a pillar of climate change mitigation and that around $380 billion were mobilized for climate change. Funds are channelled through finance ministries, Han noted, but in climate summits one usually finds environmental ministers only.
Consequently, the WLA-CdM Member came up with a proposal: "We should have a meeting of finance ministers in conjunction with or before the COP meetings because they are the ones who have the money". Han already advocated for this when he served as UN Special Envoy for Climate Change between 2007 and 2008 and in a recent WLA-CdM gathering in China.
Related Members
Related Program