Several Members of World Leadership Alliance-Club de Madrid (WLA-CdM) spoke at the Raisina Dialogue 2020 held in New Delhi, thus strengthening the collaboration with this multilateral conference committed to addressing the most challenging issues facing the global community.
In this forum organized by the Observer Research Foundation and supported by the Indian Ministry of Foreign Affairs, WLA-CdM Members spoke on issues like climate change, sustainable development, current growth models, clean air and technology, emphasizing how Shared Societies, a term coined by WLA-CdM, which also names its longest-living project, offers practices and policies to advance in all these fronts. 
Helen Clark spoke on climate change and sustainable development. Find below some other interventions by WLA-CdM Members:
–Han Seung-soo, on green growth and the role of leadership in sustainable development
–Carl Bildt, on tech conflicts and the need for states' to better develop their digital transformation
–Helen Clark also spoke on female leadership at a panel and a Facebook Live Session
Helen Clark: "The year 2020 is going to be a critical one for sustainable development"
In Raisina Dialogue's inaugural session, WLA-CdM Member Helen Clark offered a review of two big sets of commitments on development, the Sustainable Development Goals and the Paris Climate Accord.
Helen Clark sounded the alarm bell on the Sustainable Development Goals (SDGs), which are in "quite a lot of trouble in some of the core indicators". A case in point, the first goal, poverty eradication, which according to the former PM of New Zealand, "is not on track to be achieved at all". Efforts to achieve zero hunger, the second goal, are also faltering, as hunger is increasing globally.
If the current trend continues, one in every six kids in the world will not enjoy twelve years of basic education by 2030, noted Clark, a milestone that is part of the fourth goal on education. Therefore, there is a need for more investment in these basic needs, if the SDGs are to be met.
Progress in achieving the targets enshrined in the Climate Paris Agreement is also slow, noted the WLA-CdM Member. "The year 2020 is going to be a critical one for sustainable development", said Clark, setting her view to the upcoming Climate Change Conference in Glasgow, which is due to agree on the rules for global carbon markets. Similarly, the WLA-CdM Member hopes that countries step up their commitments to their Nationally Determined Contributions. These are the efforts that every state needs to make so that altogether we are able to limit warming below 1.5ºC, the Paris Agreements' central target.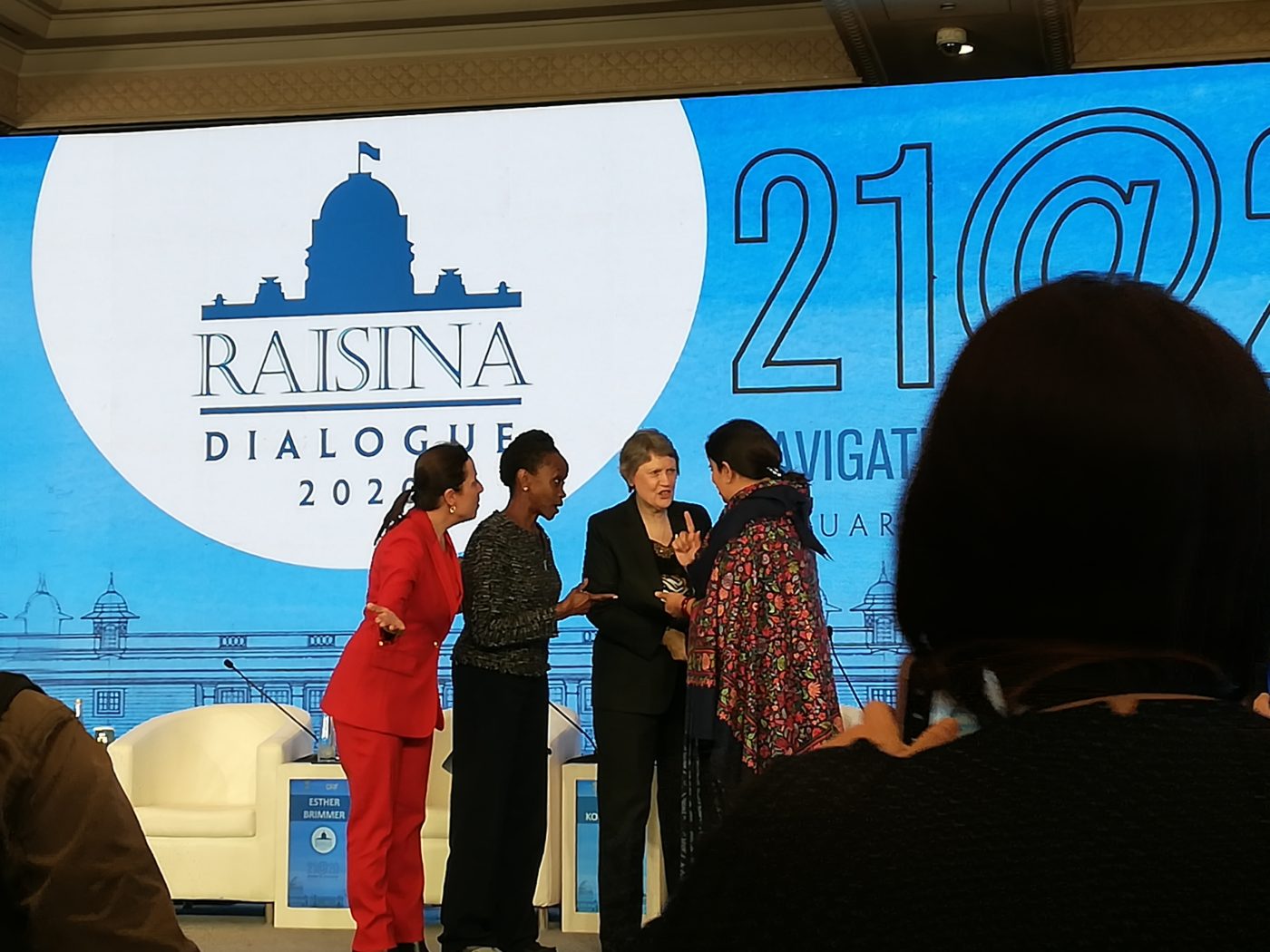 The accords reached in Paris in 2015, paired with other conventions related to climate change and biodiversity, are, in the words of Helen Clark, critical for "getting agreement to act on these challenges".
Asked on whether she thought that the developed world was being magnanimous enough with developing countries, Helen Clark pointed out that the EU has set a zero-carbon target emission for 2050. She also noted that all MPs but one in New Zealand managed to agree on zero-carbon legislation in 2007 for 2020. Acknowledging that the West has historically burdened the climate with its development, "not only does that West has to lead with ambitious targets", Clark believes, "we have to pay up".   
The later the action, the bigger the problem
Later on, Helen Clark participated in a panel on The Battle for Clean Air. Clark initiated her intervention urging decisive action on climate change, recalling a report by Sir Nicholas Stern, who already in 2006 stated that the more climate action is delayed, the more difficult and expensive becomes such action.
Here's how PM Clark put it in her own words: "The less reduction of greenhouse gas we attempt now, the more serious and difficult the adaptation challenge". In such circumstances, this adaptation challenge is much bigger for poorer countries. They are the ones who suffer most from severe climate events and lack the means to protect themselves.
In the map below, which shows data from the World Health Organization (WHO), we can see how developing countries are the ones suffering most from lack of air quality.
But air pollution is high all across the word. 9 out of 10 people globally breathe polluted air, according to the WHO. This leads some people to speak of clean air as a human right, like a participant in the Raisina Dialogue panel did. According to Helen Clark, the proposal raises "interesting boundary issues" in international relations. One can see states picking on each other over what they do to their air.
Irrespective of whether one considers clean air a right or not, the solution to polluted air is not rocket science but requires "investment, focus and leadership", Clark said. She proposed seizing the opportunities of the current energy transition period and recalled that there is ample room for improvement in regards to energy efficiency (lowering consumption, for example). The urban landscape should also be redesigned for more sustainable modes of transport.   
To meet all these challenges, Helen Clark believes that national consensus is extremely important. And it is not only a matter of enacting regulations. Policymakers should also build the capacity of local and central governments, making them capable of enforcing regulations.
Related Members
Related Program