Women's participation in politics has increased in recent years. Yet the progress we have made is far from acceptable and insufficient to fulfil the objectives we set for ourselves. This year's International Women's Day marks the 25th Anniversary of the Beijing Declaration (1995), an ambitious agenda setting out twelve strategic areas where urgent action was needed to empower women. Political participation is one of them. And in facilitating equal access to politics for men and women, like in many other areas of action in the declaration, we haven't lived up to the ambition of 1995.
There are many reasons to further increase women's participation in politics. Their approach to leadership is different than that of men and the resulting policymaking is much more diverse, also including more women in leadership positions. Yet the ultimate reason to facilitate women's access in politics is much more straightforward: they are the 50% of the population and should be represented in equal numbers.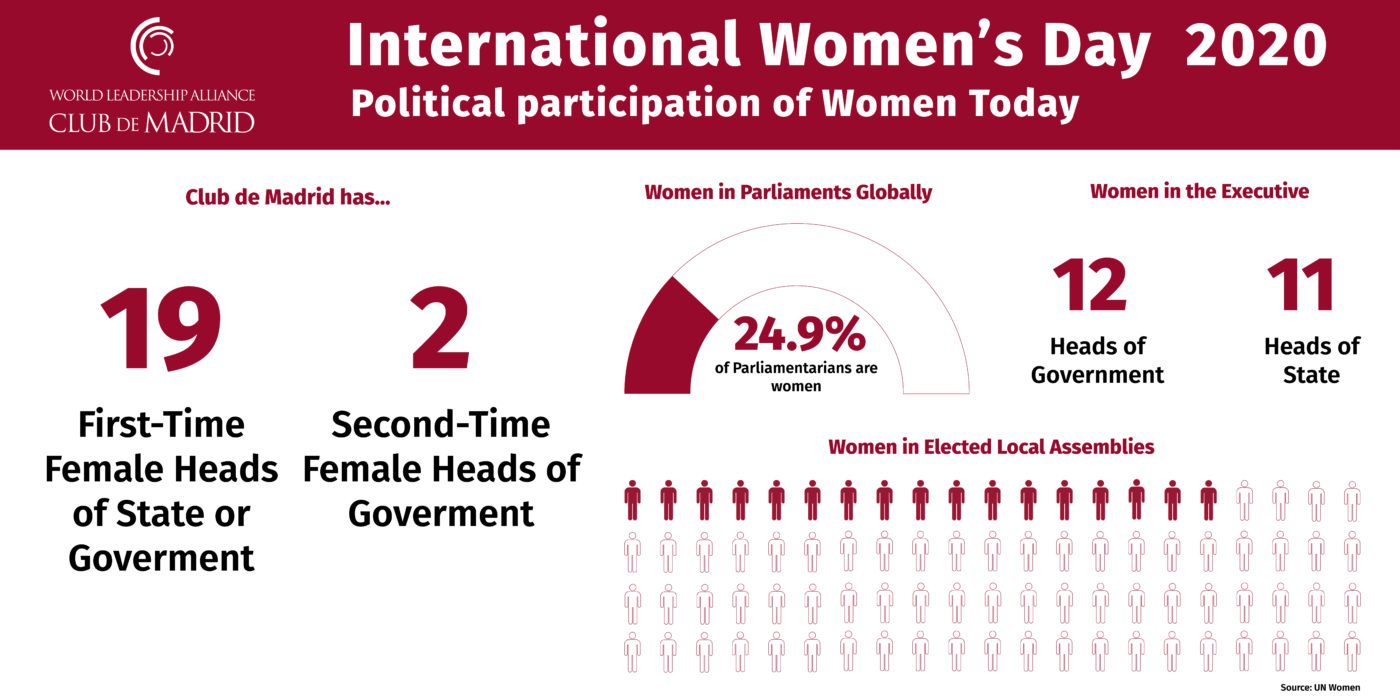 World Leadership Alliance-Club de Madrid counts among its Members 19 female leaders who were elected as the first female Head of State or of Government in their home country. A further 2 Members were the second-time female Prime Ministers of their country. All of them are in a unique position to talk about the hurdles that female leaders face, and inspire women and girls worldwide to pursue leadership positions.  
Furthermore, our mission to foster democratic development in order to meet the complex challenges of today's society cannot be achieved unless all people, men and women, have equal rights and opportunities. Therefore, in consonance with international frameworks — such as Agenda 2030 and the Convention on the Political Rights of Women— our recently published Strategy 2020-2022 puts gender equality at its core. Not only is gender a cross-cutting theme in our different programs, WLA-CdM strives to ensure equitable opportunities to women and men in all our activities.
On International Women's Day we have talked to five WLA-CdM Members, who were first-time or second-time female Heads of State or Government of their countries. They talk about how they managed to advance gender goals through their leadership positions and inspire or mentor women and girls who have the inclination to become leaders themselves. These are their stories and their thoughts:   
Laura Chinchilla, Vice President of WLA-CdM and President of Costa Rica (2010-2014)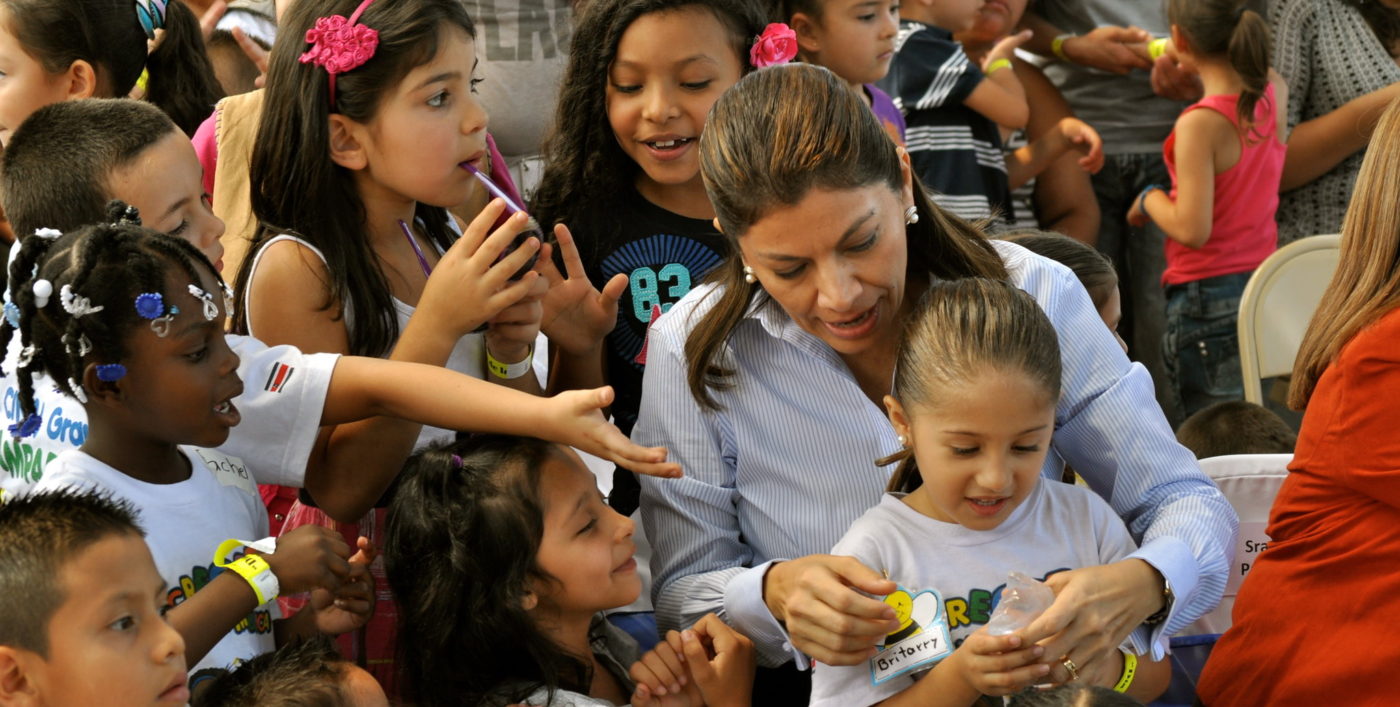 Popularly known as the children's vote, kids in Costa Rica also vote for Presidential candidates. Laura Chinchilla, who won both the official and the children's vote, tells us how teachers in schools gave her a beautiful piece of news: After seeing a woman become President of Costa Rica, girls came to school claiming that they also wanted to become the President. 
"It is a clear example of how we -women in leadership roles- are capable of changing a whole generation's perception of girls and youngsters about their rights and aspirations", Laura Chinchilla tells WLA-CdM. 
During her time leading Costa Rica's Executive, Chinchilla, who is the current Vice-President of WLA-CdM, developed a network of early childhood care centres to facilitate mothers' entry to the labour market. In a WLA-CdM activity, the former President of Costa Rica led a mission in Paraguay to advocate for the effective implementation of a law that protects women from gender violence.  
As a Member of the 2019 Human Development Report's Advisory Board, Laura Chinchilla, makes the words in the report her own: "Based on current trends, it would take 202 years to close the gender gap in economic opportunity". Social norms represent a burden in many societies, the report argues. Consequently, Chinchilla proposes, we should find a way to measure these norms and incorporate the findings into policy making that tackles gender equality.      
For Laura Chinchilla, gender-based discrimination is "one of the most hateful that exists in all humanity" and International Women's Day allows us to "point out the challenges we currently face to make progress towards a world of equal opportunities for women". 
Laura Chinchilla shared her message to women wishing to become leaders: "In this International Women's Day, let us strengthen the She-for-She spirit, and support one another with positive energy, kind understanding and shedding our silent stereotypes that create false boundaries of fear among us. We women must continue encouraging collective action; that will be the key to our success".
Helen Clark, Prime Minister of New Zealand (1999-2008)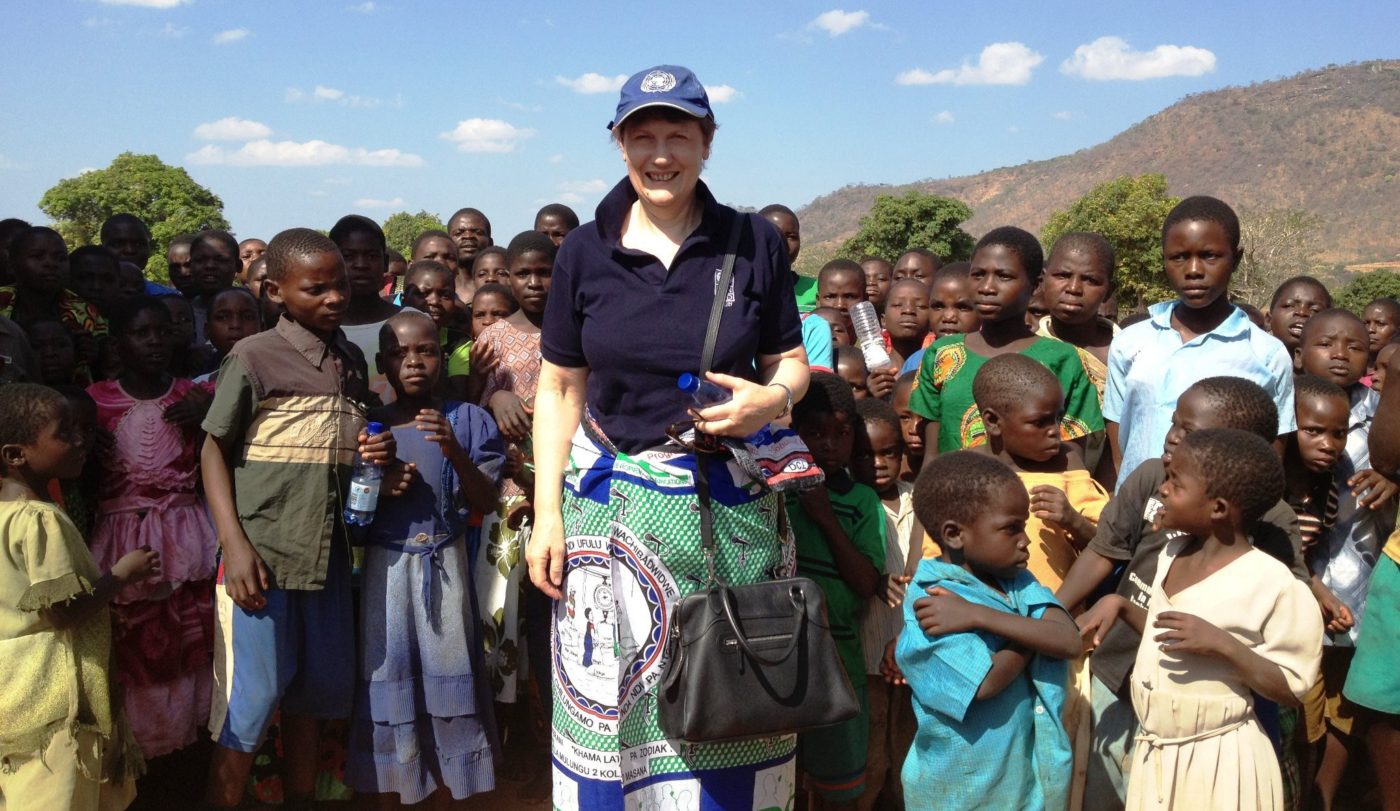 In a WLA-CdM activity, Helen Clark explained that she grew up on her family's farm, never aware that there were people who believed there were some jobs women were not capable of doing. Together with her sisters she just got stuck in.
Clark came to the role of Prime Minister after an extensive parliamentary and ministerial career. Prior to entering the New Zealand Parliament, she taught in the Political Studies Department of the University of Auckland, her alma mater.
Clark was Prime Minister of New Zealand for three successive terms from 1999–2008.  She was the first woman to lead the country's Labour Party, the first female Prime Minister elected through a General Election and the second woman to serve as Prime Minister. She remarks that "for girls and young women, this was a powerful sign that women could compete successfully at the highest level of the country's affairs".
Throughout her tenure as Prime Minister and as a Member of Parliament over 27 years, Helen Clark engaged widely in policy development and advocacy across international affairs, economic, social, environmental, and cultural spheres. In 2009, Clark became the first woman to be appointed Administrator of the United Nations Development Programme, eventually serving for two terms. She was also Chair of the United Nations Development Group.
She believes that women do have different leadership qualities to men, but sees this as a positive. Clark tells Club de Madrid: "women have more consultative and lateral styles of leadership. I believe women are more people-centred in their approach to policy."
Helen Clark's advice for young women wanting to become leaders is to: "Give it a go! Nothing ventured, nothing gained. Build your confidence and resilience levels and step forward".
Tarja Halonen, President of Finland (2000-2012)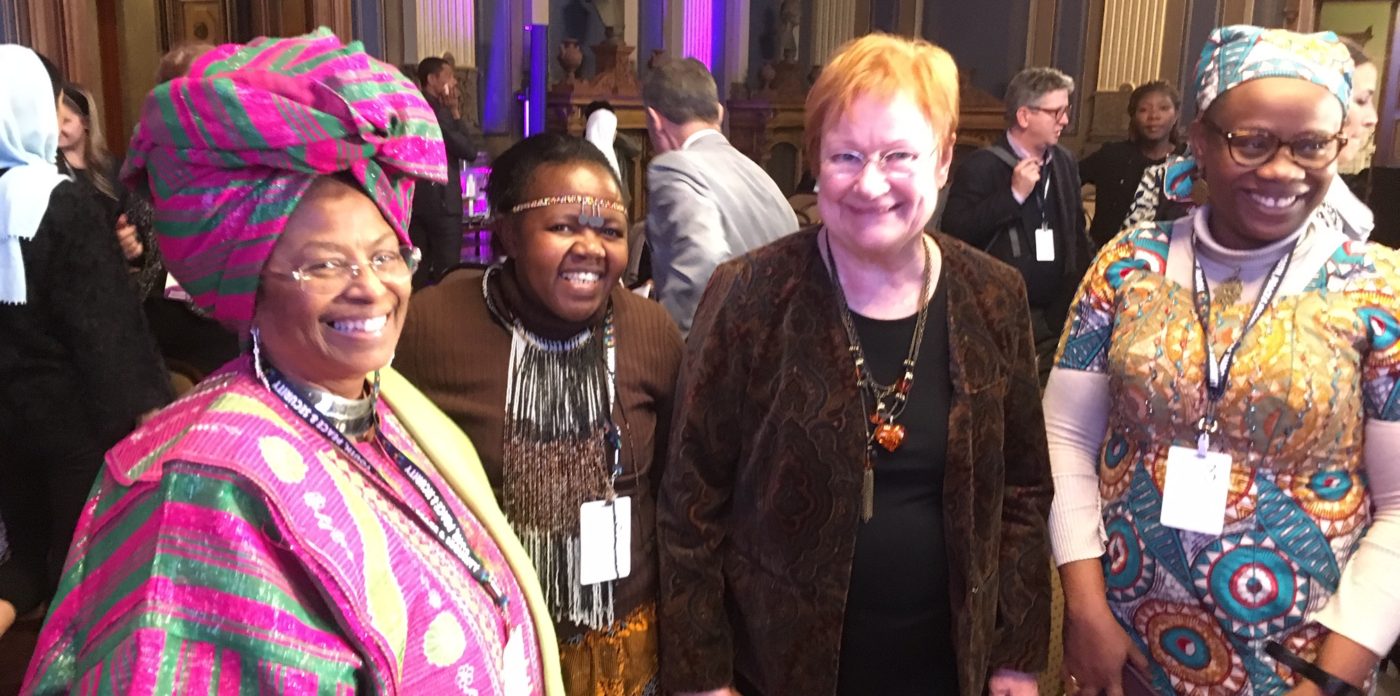 The election of Tarja Halonen as the first female President of Finland in the year 2000 marked a long-awaited milestone in the Nordic nation, the first in the world to allow women to run for office back in 1906.
The WLA-CdM Member calls on continuing "the work started by early suffragettes and feminists, and then carried on by different generations along the way" in a time when promoting gender equality requires action in so many areas of our society.
More silos need to be broken for women to have equal opportunities than those of men, some of them cultural. "Cultures are different", Tarja Halonen tells WLA-CdM, "but cultural tradition cannot be a good reason to discriminate against women, or any other group".  
Halonen, who before becoming Finland's Head of State was the chair of a Finnish LGBT rights organisation, kept participating in discussions on women's rights during her presidency.  
Tarja Halonen's message to women wishing to become leaders: "I always wish to say to young people don't think what you want to become, but think what you want to do. There are many interesting fields to work with, under the umbrella of sustainable development. By working actively and promoting those values important to oneself, the carrier will follow along".
Roza Otunbayeva, President of Kyrgyzstan (2010-2011)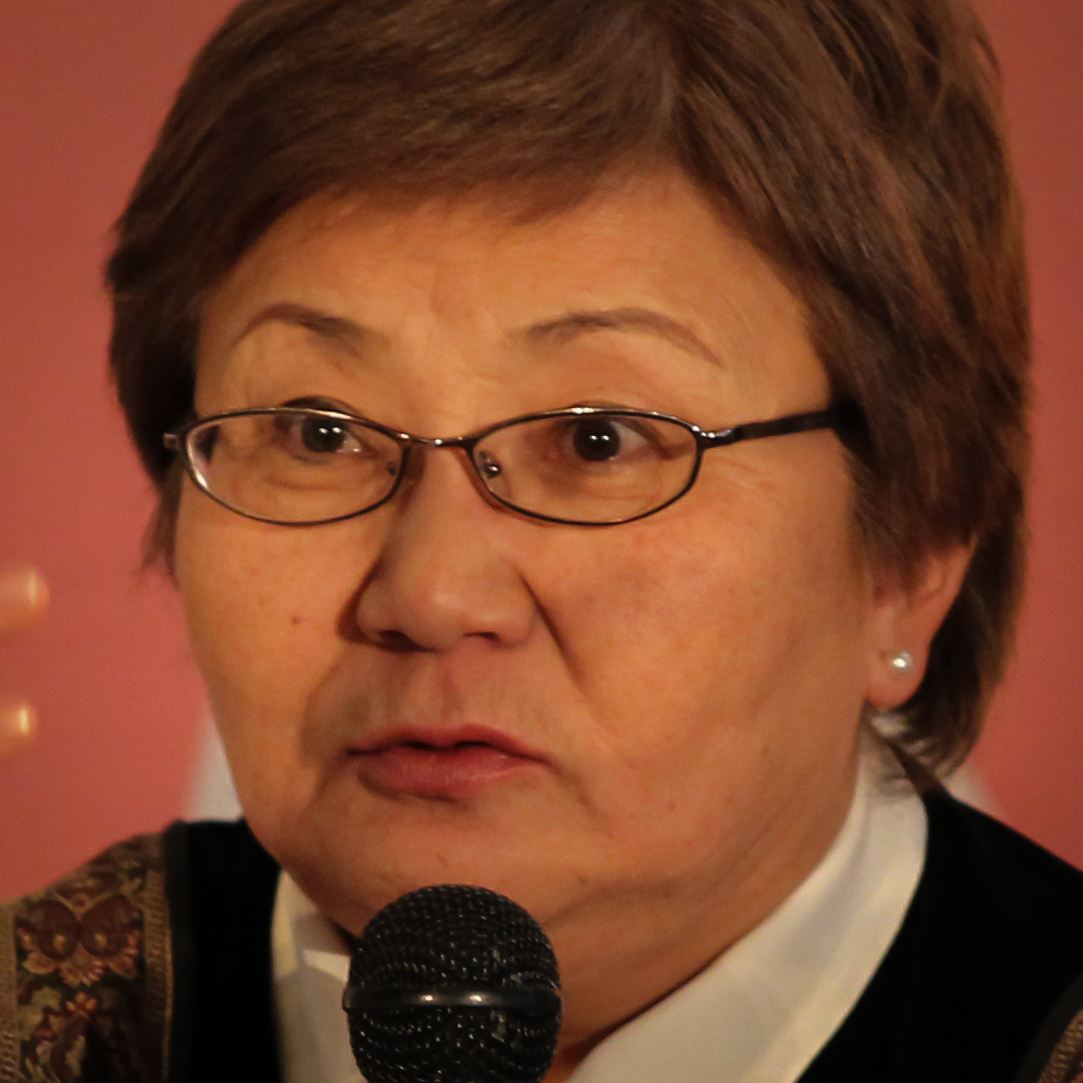 Roza Otunbayeva was elected President of the Kyrgyz Republic in 2010, following widespread rioting that led to ousting of her predecessor.
Having graduated from Moscow State University, Otunbayeva went on to be Senior Professor and Head of the Philosophy Department at Kyrgyz State National University before stepping into politics. From 1998 she was the first post-soviet Kyrgyz ambassador to the United Kingdom, in addition to serving as deputy head of the UN Observing Mission in Georgia.
Her landmark election as one of the first female leaders in Central Asia came at a pivotal time for the nation, which was in the midst of internal inter-ethnic conflict. "I was always met with understanding, support and help from women and women activists in difficult times", Otunbayeva told WLA-CdM. This period marked dramatic change, both parliamentary and in the executive. The country got a new national constitution, which meant that, as Roza Otunbayeva continues "Kyrgyzstan actually became a pioneer on this path of development in the post-USSR."
She launched, and continues to head, the Initiative of Roza Otunbayeva, working with NGOs on sustainable development, democracy and education. Gender discrimination is found in both politics and customs in post-Soviet nations, and despite victories and achievements in gender equality, empowering women through equality remains the unfinished business of our time.
The former President of Kyrgyzstan believes it is important to celebrate International Women's Day as a means to "express solidarity and support all women – activist, human rights defenders, feminists, LGBTQ people, and environmentalist, all those who seek equality and respect for the rights of women and discriminated groups." She also highlighted the importance of involving male leaders in the cause, as well as democratically-minded young people, in order to get the correct message heard. 
Looking towards the future, Roza Otunbayeva would like to see "every young woman achieve her full potential no matter whether she chooses to be a politician, a doctor, a mother, or a teacher."
Jenny Shipley, Prime Minister of New Zealand (1997-1999)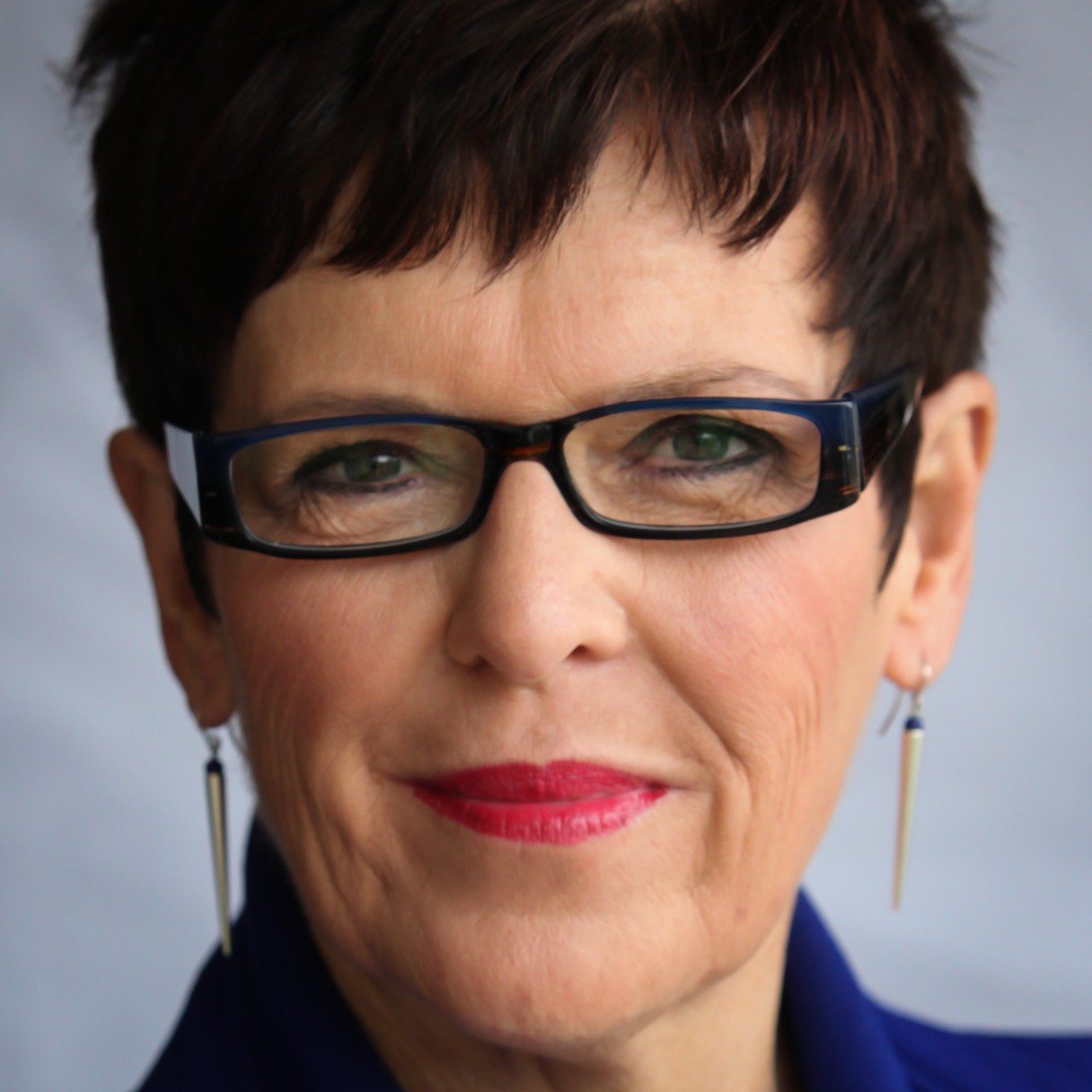 A teacher before working in politics, Jenny Shipley was elected to New Zealand's parliament in 1987 and was appointed Minister of Social Welfare in 1990. Throughout the decade, Shipley served as a minister holding different portfolios in successive cabinets, including that of Minister for Women's Affairs. 
When New Zealand's Prime Minister resigned in 1997, Jenny Shipley was elected to the post by Parliament, becoming New Zealand's first female to lead the government. She was also the first Prime Minister to go to a Hero Parade.   
In a radio interview in New Zealand, Shipley commented on the "lazy rhetoric" about female leaders during her time as the country's premier: "Look at the language", she says, "Men are bold, women are vindictive".
Like many other female leaders, Jenny Shipley encountered rhetoric aimed at stifling their position for the mere fact of being women. This is one of the many reasons why women have a harder time when holding leadership positions. For Shipley, this is an added reason not shrink: "Women must continue to find their voice regardless of how demanding it can be to take a stand"
Before and after her most active roles in politics, Jenny Shipley has been involved in community and charitable organizations, some working in favour of gender equality. "I have worked tirelessly to mentor other women to ensure that the number of influential women in politics, both in New Zealand and worldwide, continues to expand, but also in the corporate and philanthropic sector", she tells WLA-CdM.     
Jenny Shipley's message to women wishing to become leaders: "Find the leader in yourself, find your voice, express with courage who you are, what you do and what you care about and you will become a beacon for others who will also find courage, not only to follow you, but to create their own momentum. In doing so we will achieve change". 
Related Members