The former President of Slovenia (2007-2012), Danilo Türk has been nominated President of World Leadership Alliance-Club de Madrid, a role he will commence in 2020.
"The role of Club de Madrid has never been more important", said the former President of Slovenia and newly elected President of the organization. "I accept with a great sense of responsibility", he added.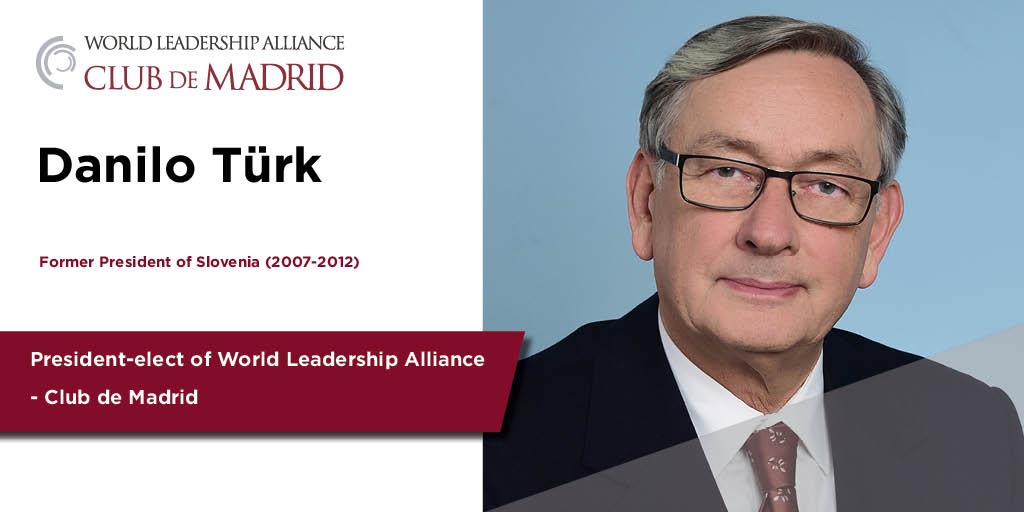 Danilo Türk recalled how he initially learned about the Club de Madrid. At the time, he was Assistant Secretary General, and UN SG Kofi Annan told him to research an organization founded by philanthropist Diego Hidalgo.
During his speech, the former President of Slovenia acknowledged the International Community's need for "informed advice" and expressed the need for further cooperation with International Organizations and NGOs.
President Danilo Türk finally thanked President Vaira Vīķe-Freiberga, the former President of Latvia (1999-2007) for her six years' of leadership, who in return expressed her "honest congratulations". Vaira Vīķe-Freiberga's term will conclude at the end of 2019.
Members of the Club de Madrid from all regions of the world gathered in Madrid for the XVIII General Assembly and congratulated President Danilo Türk. Many offered ideas to steer the organization in this new chapter that is soon to get underway.
The XVIII General Assembly also discussed the Club de Madrid's new programmatic strategy for the term 2020-2022. The organization will maintain two of its main programs (Next Generation Democracy and Shared Societies) and add a third new one, Multilateralism and Global Cooperation. Find their thematic priorities below:
–Next Generation Democracy will focus on Democracy in the digital era, Populism, Women in leadership
–Shared Societies will centre its efforts in Migration, Inclusive economy, Inclusive peace, Education and PVE through inclusion
–Multilateralism and Global Cooperation will focus on Multilateralism and a Dialogue on Critical Global Issues
Related Members