Disinformation and the spread of fake news –mainly through social media– generates an increasing concern among the global democratic community. Similarly, other threats related to the distribution of information online –how content algorithms generate echo chambers that can push citizens into ideological one-sidedness or how anonymousness fosters the spread of hate speech – are some of the drivers of the latest political shifts in different continents of the world. As the evidence of these threats to democratic societies grows, particularly those related to disinformation campaigns on democratic systems, policymakers show an appetite for solutions.
"We must redesign our information ecosystem in the 21st century", wrote a group of 16 political scientists and legal scholars following publication of the largest-ever study on fake news from Science magazine.
World Leadership Alliance – Club de Madrid (WLA – CdM) detected this demand for solutions from scholars and citizens and joining celebrations of the 100 years of Latvia's statehood will hold a roundtable on Global Governance for Information Integrity in Riga, together with the Latvian Ministry of Foreign Affairs and with the support of NATO Strategic Communications Center of Excellence.
Our Roundtable will take place on 27th September, just before the Riga Security Conference (28th – 29th September). WLA – CdM members will join panel discussions at the Conference to present the conclusions from the Roundtable.
Members that will attend the events in Riga events are the following:
• Vaira Vike Freiberga, President of WLA – CdM and former President of Latvia
• Mehdi Jomaa, Former PM of Tunisia
• Valdis Birkavs, Former PM of Latvia
• Tsakhiagiin Elbegdorj, Former President of Mongolia
• Alfred Gusenbauer, Former Chancellor of Austria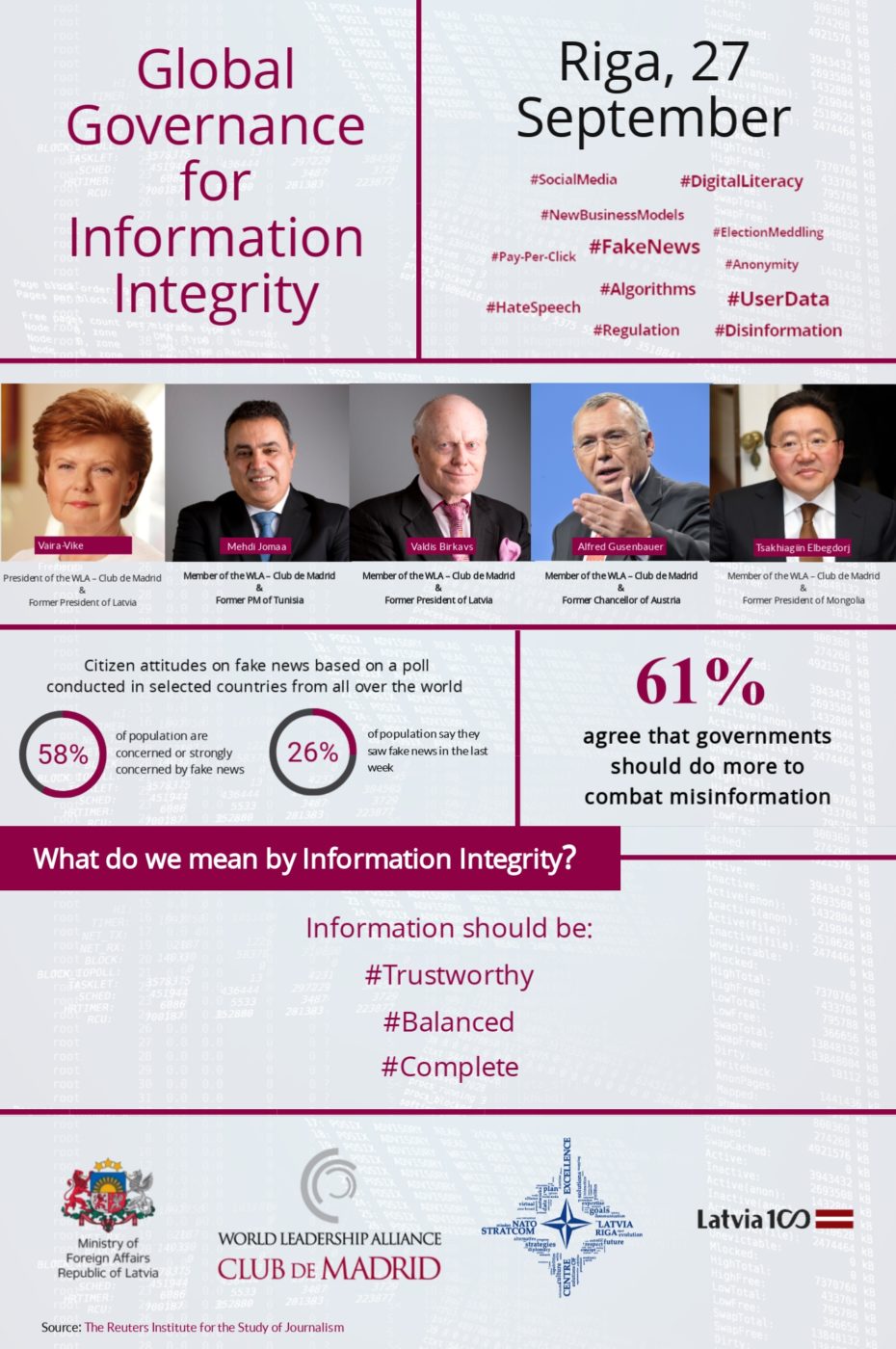 The Global Governance for Information Integrity will leverage the political clout of our members together with input from top experts from leading institutions –like the NATO Strategic Communications Center of Excellence and the Latvian Association of Political Science– governmental bodies and elected representatives (MEPs), in an effort to produce consensus-based policy recommendations. Its aim is to protect information integrity, defined as the trustworthiness, balance, and completeness of information that shape political perceptions of citizens.
Three pathways have been identified for action at the global level:
1. Protecting the integrity of political information through global governance.
2. Educating citizens to be discerning users of digital media.
3. Creating incentives for new business models that reward transparency, accountability and social inclusion in online information sharing.
While national legislative efforts are underway in some countries following the guidelines above, ours is one of the few efforts at the global scale to produce meaningful policy recommendations around the main threats to information integrity. We identified the following: online anonymousness, pay-per-click business models, easy propagation of hate speech and polarizing ideas through filter bubbles created by content algorithms, and renewed opportunities for digital surveillance by authoritarian regimes.
The Global Governance for Information Integrity builds upon previous discussions of WLA-CdM about how digital technology has disrupted the information ecosystem. Last February, also within Next Generation Democracy – a project on the state and future of democracy that aims to identify and reverse disquieting trends in democratic development -, Members of WLA-CdM joined NewCo and IT sector leaders in discussions on the state of democracy in North America. Social media potential threats to democracy were widely discussed.
Related Members