Several Members of Club de Madrid, all of them former Heads of State and Government sign a call to postpone the elections of the Inter-American Development Bank until March 2021. At the end of this piece of news, you will find a list of all signing Members.
The election was initially scheduled to be held on 12 September 2020. But "the conditions are far from favourable for the deep and thoughtful debate that such an important decision demands", write the Members.
"The election comes at a time when the region [Latin America and the Caribbean] is not only at the peak of an unprecedented pandemic, but in the middle of the sharpest economic downturn of any developing region, and major social upheavals exacerbated by the growing frustration of middle classes", state the Members who sing the call.
"It is for this reason" the signatories state, "that we propose postponing the election until March of 2021 and, in much the same manner as the World Trade Organization, name an acting chief, giving member countries time for an in-depth discussion on the role of the IDB and its leadership and the appropriate institutional response to the post-COVID-19 recovery".
List of Signatories
Jan Peter Balkenende
Prime Minister of the Netherlands (2002-2010)
Carl Bildt
Prime Minister of Sweden (1991-1994)
Gordon Brown
Prime Minister of the United Kingdom (2007-2010)
Kjell Magne Bondevik
Prime Minister of Norway (1997-2000; 2001-2005)
Felipe Calderón
President of Mexico (2006-2012)
Micheline Calmy-Rey
President of Switzerland (2007 and 2011)
Kim Campbell
Prime Minister of Canada (1993)
Fernando Henrique Cardoso
President of Brazil (1995-2003)
Laura Chinchilla
President of Costa Rica (2010-2014)
Vicente Fox
President of Mexico (2000-2006)
Yasuo Fukuda
Prime Minister of Japan (2007-2008)
Felipe González
President of the Government of Spain (1982-1996)
Alfred Gusenbauer
Chancellor of Austria (2007-2008)
Han Seung-Soo
Prime Minister of the Rep. of Korea (2008-2009)
Osvaldo Hurtado
President of Ecuador (1981-1984)
Ivo Josipovic
President of Croatia (2010-2015)
Ricardo Lagos
President of Chile (2000-2006)
Yves Leterme
Prime Minister of Belgium (2008; 2009-2011)
Carlos Mesa
President of Bolivia (2003-2005)
PJ Patterson
Prime Minister of Jamaica (1992-2006)
Julio María Sanguinetti
President of Uruguay (1985-1990; 1995-2000)
Danilo Türk
President of Slovenia (2007-2012) and WLA-CdM President
Herman Van Rompuy
Prime Minister of Belgium (2008-2009)
Ernesto Zedillo
President of Mexico (1994-2000)
Media coverage
President of Club de Madrid, Danilo Türk, appeared on a Colombian radio to discuss the letter and the election at the Inter-American Development Bank.
Radio Interview with W Radio Colombia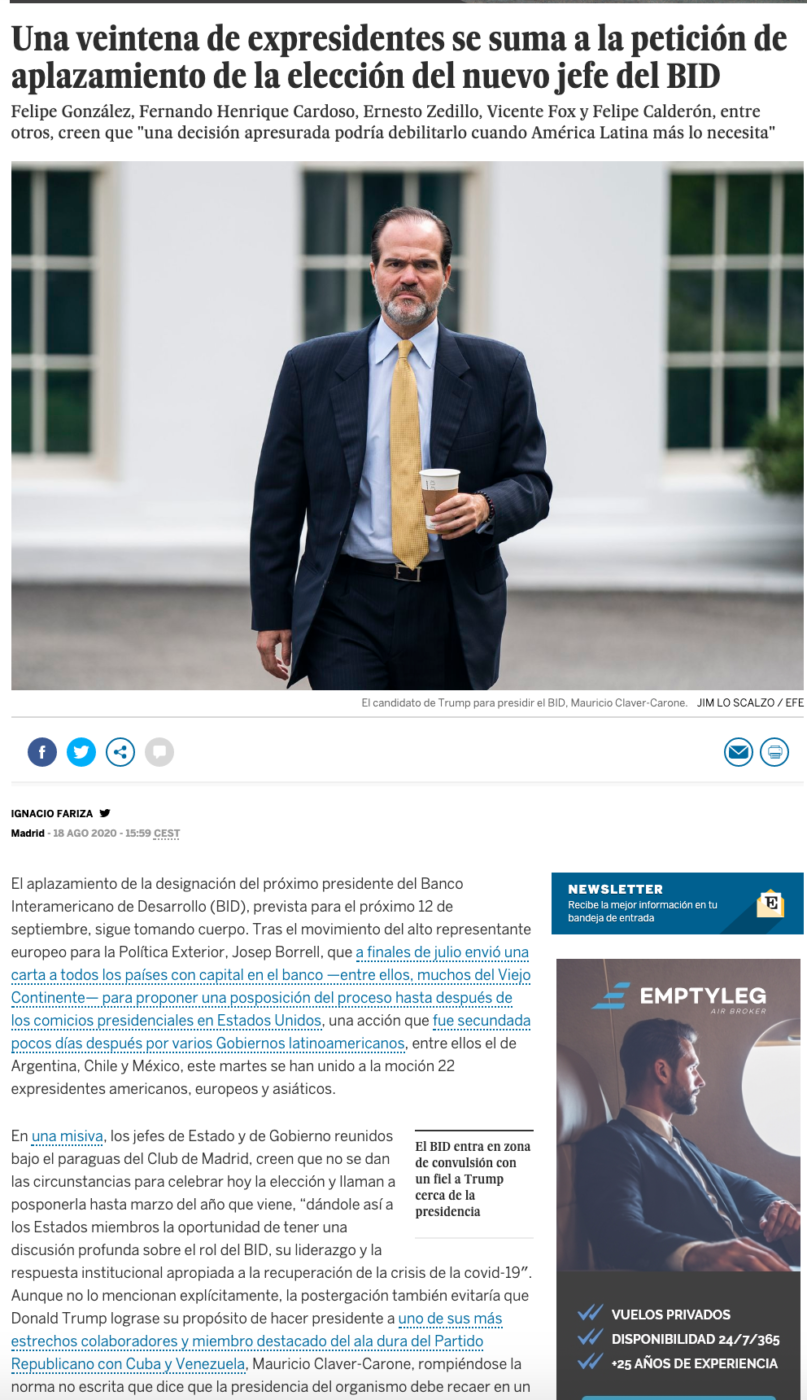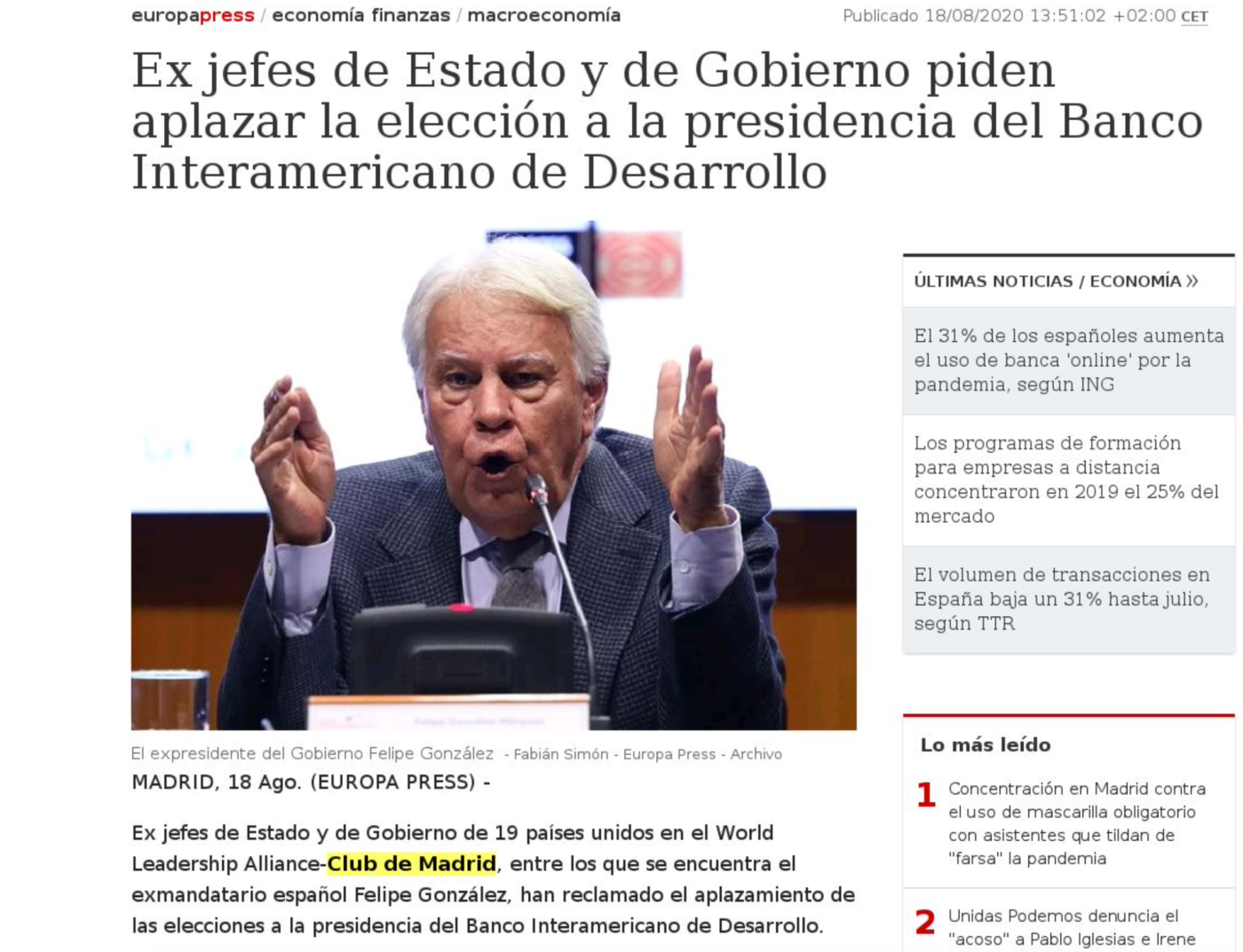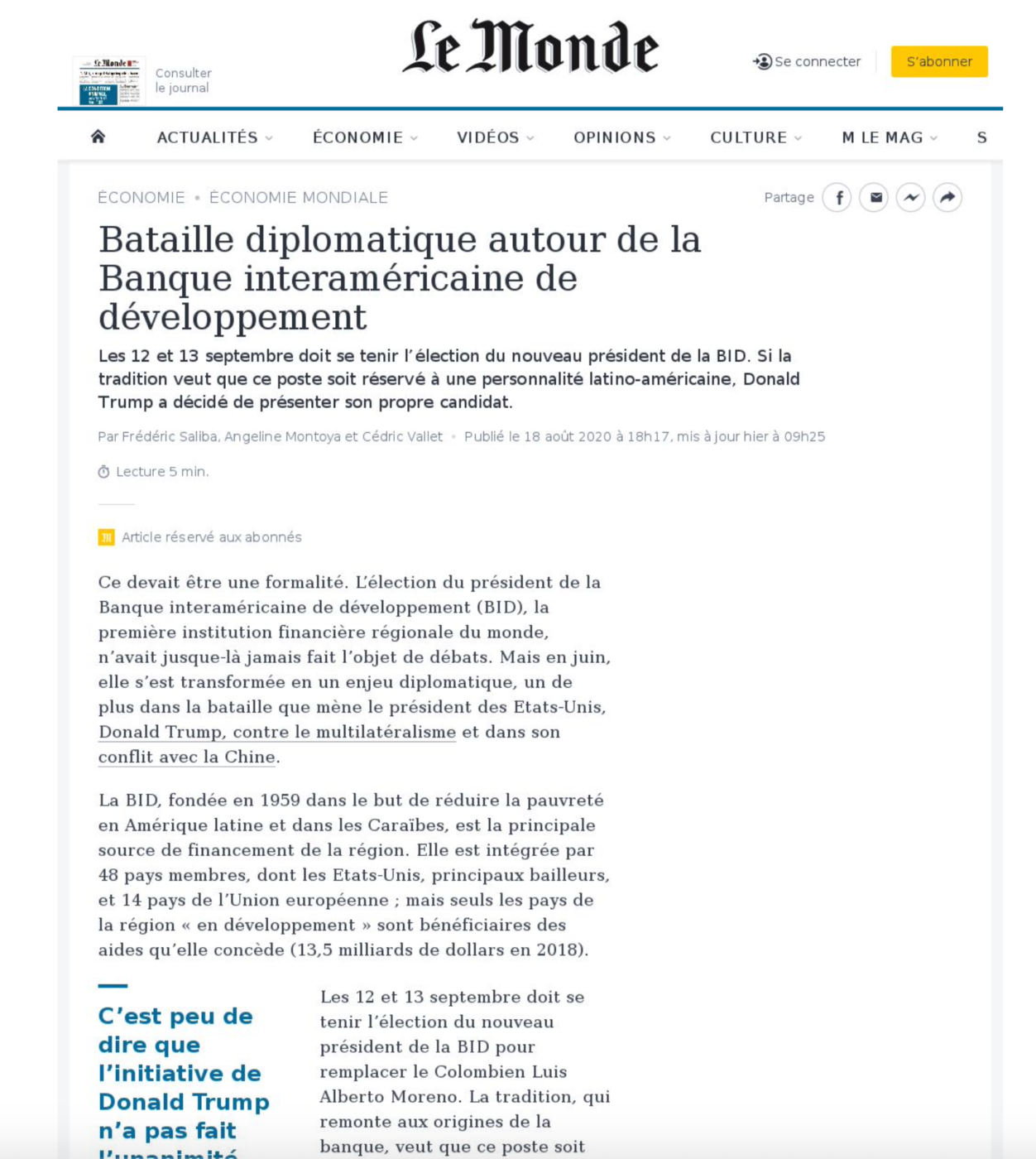 The letter received extensive media attention. To access all coverage, please download a clipping report below